Find this product on Logos.com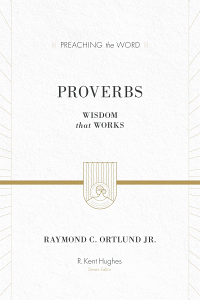 Preaching the Word - Proverbs
Wisdom that Works
Highlights
Noted for its commitment to Biblical authority
Clear exposition of scripture
Practical Application
Product Details
How exactly does one become wise? With the overwhelming flood of information and opinion in our times—much of it a mixture of spin, sound bites, and trivialities—it is crucial we turn back to the Bible and pay close attention to the deep insights that have stood the test of time.
Proverbs 1:20 tells us that "Wisdom cries aloud in the street, in the markets she raises her voice." The wisdom of God does not stand aloof, but instead graciously moves toward us, into the world where we live and struggle day by day—offering us her very best, if we will only listen.
Pastor and teacher Ray Ortlund unpacks the book of Proverbs in twenty-one straightforward sermons, providing a biblical worldview on everything from money, sex, and power to that of the daily routines of an average life. Drawing relevant parallels from ancient culture to present day, he helps us understand how the book of Proverbs is practical help for ordinary people going through everyday life.
Most importantly, Ortlund shows how the Proverbs point to Jesus and his counsel for the perplexed, his strength for the defeated, his warning to the proud, his mercy for the broken. With careful treatment of the Scriptures and uncomplicated language, Proverbs: Wisdom that Works bridges the gap between real-life experience and the scholarly depth of many commentaries.
About the Author

R. Kent Hughes is Senior Pastor Emeritus of College Church in Wheaton, Illinois. Hughes is the author of numerous books and is also the editor and contributor for Preaching the Word series, including Mark: Jesus, Servant and Savior, which received the E.C.P.A. Gold Medallion Book Award for best commentary in 1990. Hughes served as Senior Pastor of College Church for 27 years and retired at the end of 2006. He came to Wheaton from California where he pastored two churches. He holds a BA from Whittier College, an MDiv from Talbot School of Theology, a DMin from Trinity Evangelical Divinity School and a DD from Biola University. Currently he lives in Washington state with his wife, Barbara, and he is the father of 4 and grandfather of 21 children.
Endorsements
This series will minister to a pastor's soul as well as give him an immense resource for his preaching. And it will minister to the parishioner wonderfully in personal Bible study. The reader will be filled with fresh thoughts about our Lord as well as joyful encouragement for himself. That is what happened to me in reading this.