Find this product on Logos.com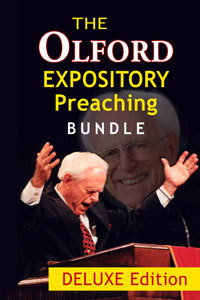 Olford Expository Preaching Bundle - Deluxe Edition
This title works with the following Wordsearch products
Desktop
Highlights
The best of the late Dr. Stephen Olford
Great tools for expository preaching
Includes a biography and five audio sermons
Product Details
The Olford Expository Preaching Bundle - Deluxe Edition is an astonishing collection of sermons, commentaries, and helpful advice for anyone who preaches and teaches God's Word left behind by Dr. Stephen F. Olford (1918-2004). For the better part of the 20th century, Olford had a remarkable impact on the church and evangelism worldwide. He was a role model to many prominent preachers such as Adrian Rogers and Charles Stanley. Dr. Billy Graham called Olford, "the man who most influenced my ministry." In 1985, Olford also founded the Stephen Olford Center at Union University, which still trains ministers today.
The Olford Expository Preaching Outlines are the heart of the Olford Bundle. Each of the seven volumes contains a year's worth of preaching material. It includes Olford's outlines, support material, illustrations, printable outlines you can pass out, and applications that are easy to apply to your own sermons and teaching.
Olford was a prolific author, and we've also included 10 of his most often-consulted volumes on preaching, evangelism, theology and more. Included are:
Heart Cry for Revival
Inviting People to Christ
Proclaiming the Good News
Not I, But Christ
The Way of Holiness
The Sword of Suffering
A Time for Truth
Anointed Expository Preaching
The Pulpit and the Christian Calendar
Believing Our Beliefs
Extra Bonus Material
This Deluxe Edition of The Olford Expository Preaching Bundle also contains Olford's biography, 5 audio sermons and these 3 additional Olford volumes:
The Secret of Soul Winning
According to Your Word
Find Us Faithful (by David Olford)
Supplement and enhance your preaching with the Olford Preaching Bundle - Deluxe Edition.
Check out a sample of The Olford Expository Preaching Outlines by clicking on the Sample. Read more about each included volume by clicking on their book cover image below.
About the Author
Dr. Stephen Olford, founder and chairman of the Board of Olford Ministries International, was recognized nationally and internationally for his powerful exposition of Scripture and his Christ-centered ministry. In recent years, he has been viewed as a mentor and model to thousands of preachers, teachers, and pastors in the United States and around the world.
Dr. Olford has received numerous awards, honorary degrees and distinctions. As an ordained Baptist minister and a conservative evangelical by conviction, Dr. Olford ministered across many denominational, cultural, and racial lines. Besides his extensive preaching ministry, Dr. Olford authored numerous books, booklets, and preaching resources.
Products Included In This Bundle