Find this product on Logos.com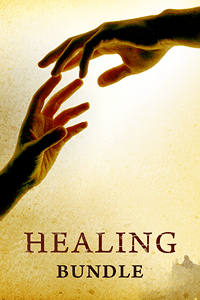 Product Details
Have you ever prayed for a sick friend? Of course you have. As followers of Christ, this is what we do. And if you're like me, sometimes you'd like to pray with more confidence. Wouldn't it be nice to have a better understanding of God's desire to heal? The editors at Wordsearch have put together this 8-volume bundle of our best works on divine healing.
Does God heal every time? Then why are some people healed and some not? How is my faith involved? Am I doing something wrong that is getting in the way of healing? These are the kinds of questions we ask ourselves, and the books in the Healing Bundle offer answers that will wash the confusion away. That's because each of these volumes take you deep into what God's Word says about healing. You'll find it's like the ultimate topical Bible study on a supremely important subject. And Wordsearch helps you study it in a way that goes way beyond just reading a book!
Three of the books in this bundle are ideal for studying with others. Wouldn't if be fun to lead a group of believers in an intense study of divine healing? You already know how easy Wordsearch makes it to organize lessons and print them out for group study. With the Healing Bundle in your digital library, you'll have what you need to lead with confidence.
When we think of divine healing, most often we think of physical ailments of the body. But we also suffer from ailments of the mind, the emotions and the spirit. We all have friends and loved ones who depend on us to minister to their hurting hearts. You will find plenty of wisdom and advice on how to minister to others and how our wonderful Savior is eager to heal the broken-hearted.
Your electronic bookshelf has a spot that is waiting to be filled with the Healing Bundle. It's an important and too often neglected part of our Christian faith.
Products Included In This Bundle