Find this product on Logos.com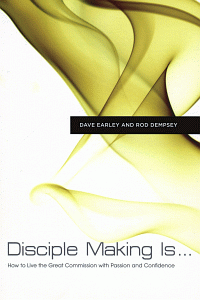 Disciple Making Is...
How to Live the Great Commission with Passion and Confidence
Product Details
What is Disciple Making? Disciple making is embracing the cross. It is forsaking all to follow Jesus. It is living on mission, launching an unstoppable force, multiplying disciple makers as Paul did, and more.
Disciple Making Is… stands as one of the most thorough books yet offered regarding how to make disciples. In thirty brief, hard-hitting but easily accessible chapters, the entire scope of disciple making is presented in a way that will inspire and inform the reader to obey the Great Commission with great passion.
Grounded on a solid biblical foundation, authors Dave Earley and Rod Dempsey — both veterans of one-on-one, collegiate, small group, and local church discipleship — share their practical insights on how to best reproduce reproducers of Christ's message.
About the Author
Dave Earley is lead pastor of Grace City Church of Las Vegas, Nevada. He also serves as adjunct professor of Pastoral Leadership for Liberty Baptist Theological Seminary in Lynchburg, Virginia.
Rod Dempsey is director of the Master of Arts in Christian Ministry and Master of Arts in Theological Studies programs at Liberty Baptist Theological Seminary in Lynchburg, Virginia.
Endorsements
A careful analysis of what it means to be a disciple of Jesus and what it means to make disciples for Jesus. I recommend you read, study, and apply the biblical principles of Disciple Making Is.
A creative how-to handbook at its best. The wealth of details here, all up-to-date, tried and tested in tough situations, can work in the lives of real people.
Dempsey and Earley have given us a carefully thought-through opportunity to rethink everything we know about discipleship. A must read!