Find this product on Logos.com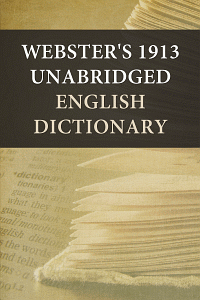 Webster's 1913 Unabridged English Dictionary
This title works with the following Wordsearch products
Desktop
Highlights
In order to run Webster's, you need to run the latest version of Wordsearch, 10.6. If you're running WS10, go to your Help menu and "Check for Updates." This is a free update.
Product Details
Often in our Bible studies we want to look up the definition of an English word, and those searches are outside of the Wordsearch experience. Now, with Webster's 1913 Unabridged English Dictionary, you can access 95,408 English words within your library.
Many of the word articles in Webster's 1913 edition include references to Bible passages, which is helpful for students of the Bible. Regardless if you are reading a Bible, commentary or any other book, if you want a quick dictionary definition, simply right-click on the word and select "Definition for." Your new Word Definition window will open with Webster's (and any other dictionaries you have loaded). It's fast, easy, and you stay inside of Wordsearch.
With this edition, you'll find all 3,827 Webster images, and many of them will help you visualize things you're studying. For example, you are reading about God's design for priestly garments in Exodus 28:33. God instructed that pomegranates be woven around the hem. With two clicks of the mouse you are able to visualize the shape of a pomegranate and its leaves. You also will notice that Webster's secondary definition made reference to the exact verse, and of course, that Bible reference is hot-linked in Wordsearch.
Webster's works like any other book in your digital library. You can open it and quickly search for any word you like. But if you have WS10, you can also put it in your Carousel, along with other Bible dictionaries. This way, you can select a word and toggle through your dictionaries, including Webster's.