Find this product on Logos.com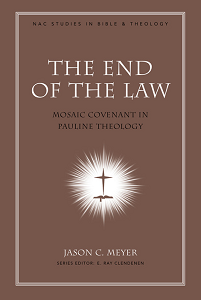 New American Commentary Studies in Bible & Theology: The End of the Law
Mosaic Covenant in Pauline Theology
Product Details
About the New American Studies in Bible and Theology

The books in this series often take a biblical difficulty as their point of entry, remembering B.F. Westcott's point that "unless all past experience is worthless, the difficulties of the Bible are the most fruitful guides to its divine depths."
This new series is to be a medium through which the work of evangelical scholars can effectively reach the church. It will include detailed exegetical-theological studies of key pericopes such as the Sermon on the Mount and also fresh examinations of topics in biblical theology and systematic theology. It is intended to supplement the New American Commentary, whose exegetical and theological discussions so many have found helpful. These resources are aimed primarily at church leaders and those who are preparing for such leadership. We trust that individual Christians will find them to be an encouragement to greater progress and joy in the faith. More important, our prayer is that they will help the church proclaim Christ more accurately and effectively and that they will bring praise and glory to our great God.
About The End of the Law
Commonly understood as the first theologian of the Christian faith, Paul set forth the categories by which we describe our relationship with Christ. Did he understand the new covenant Jesus announced at the Last Supper primarily as a replacement of the old Mosaic covenant God made with Israel, or as a renewal and completion of the old? Jason Meyer surveys the various differences that have been argued between the two covenants in The End of the Law, carefully and inductively perfoming a semantic, grammatical, and contextual analysis of all the Pauline texts dealing with covenant concepts.
About the Author
Jason Meyer is assistant professor of Religion (New Testament and Greek) at Louisiana College in Pineville, Louisiana. He holds degrees from Oklahoma Wesleyan University (B.S.) and Southern Baptist Theological Seminary (M.Div., Ph.D.).
Endorsements
For the last forty years of my ministry no biblical issue has proved more recurrent or more vexing than the nature of the Mosaic law as it relates to the gospel and the new covenant. The pastoral implications for how you preach the gospel, aim at sanctification, comfort strugglers, give assurance, and admit people to membership in the church, are huge. Jason Meyer is a good guide. I found myself writing 'YES!' in the margins repeatedly. And there were enough 'Aha' moments of fresh discovery to make me want to keep going. I thank God for this younger scholar. His book is a precious gift to the church.
Dr. Meyer's synthesis of Paul's theology of the old and new covenants is grounded in careful and thorough exegesis of Paul's writings, is clearly expressed, and is informed by the most recent research on the subject. The book provides a helpful model for guiding others in the task of developing a truly biblical theology. … This combination of scholarship and worship makes The End of the Law immensely readable and instructive.
To read Jason Meyer's The End of the Law is to enter into the thrill of seeing the abundance of grace and power God has unleashed through his radical new covenant in Christ and the Spirit. … To see the new covenant for what it is—God's answer in Christ and the Spirit to the intransigent sinful rebellion of his people—is to celebrate the greatness of the gospel and the surpassing richness of God's gift to his people in his Son and in his Spirit. What joy to know that the law has ended and new life in Christ has come. Meyer's development of these themes, so central to the gospel, is simply superb.
One of virtues of this work is its elegant clarity. Meyer defines terms succinctly and clearly, so that readers are not lost in a forest of obscurity. Even more important, Meyer advances his case with in-depth and convincing exegesis. NT scholars are known for their exegetical skills, but Meyer's exegesis is coupled with theological rigor and insight which one finds too infrequently among biblical scholars.
One of the limitations of much previous study [of the covenant in Paul] has been the failure to advance discussion methodologically. In that respect alone, Jason Meyer's work is to be warmly welcomed. By taking up and developing the kind of approach that opens up, rather than closes down, possibilities, Meyer shows that there is much still to do in understanding Paul's notion of the old and new covenants. As a result, he pursues several new areas of exploration, and puts forward an eschatological approach that certainly merits consideration.
Jason Meyer is among the most promising Christian leaders in our generation. His rare combination of intellectual and spiritual gifts with character that is "above reproach" is a breath of fresh air. He is a bright and insightful biblical scholar, linguist, and theologian, a bold and passionate expositor, a disciple who deeply loves his Lord, and a man who pursues holiness. From the time that I have spent in prayer with him, I am convinced that he honestly wants to be conformed to the image of Christ more than anything and is truly captivated by his longing for the glory of Christ. I believe that his voice deserves a hearing and, when heard, will be an instrument used by God for Christ's great glory, the reformation of His church, and the advancement of His kingdom.