Find this product on Logos.com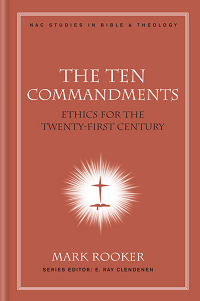 New American Commentary Studies in Bible & Theology: The Ten Commandments
Ethics for the Twenty-First Century
Product Details
About the New American Studies in Bible and Theology

The books in this series often take a biblical difficulty as their point of entry, remembering B.F. Westcott's point that "unless all past experience is worthless, the difficulties of the Bible are the most fruitful guides to its divine depths."
This new series is to be a medium through which the work of evangelical scholars can effectively reach the church. It will include detailed exegetical-theological studies of key pericopes such as the Sermon on the Mount and also fresh examinations of topics in biblical theology and systematic theology. It is intended to supplement the New American Commentary, whose exegetical and theological discussions so many have found helpful. These resources are aimed primarily at church leaders and those who are preparing for such leadership. We trust that individual Christians will find them to be an encouragement to greater progress and joy in the faith. More important, our prayer is that they will help the church proclaim Christ more accurately and effectively and that they will bring praise and glory to our great God.
About The Ten Commandments
In this new volume from the New American Commentary Studies in Bible & Theology series, Mark Rooker discusses one by one the language of each of the Ten Commandments and its complete meaning in the ancient context. Adding a depth of understanding that can't be obtained by looking only at the commandment itself, he shows how each commandment echoes elsewhere in the Old Testament, how it was violated in Israel's history, and how it surfaces again in the New Testament. In conclusion, Rooker includes an extended section on the theological significance of each commandment and its contemporary implications.
About the Author
Mark Rooker is professor of Old Testament and Hebrew at Southeastern Baptist Theological Seminary in Wake Forest, North Carolina. He holds degrees from Rice University (B.A.), Dallas Theological Seminary (Th.M.), and Brandeis University (M.A., Ph.D.) and did additional studies at The Hebrew University of Jerusalem.
Endorsements
Mark Rooker has written a brilliant, much needed book for American today. No civil society can exist without laws, and only laws based on God's authority can endure and ensure equal justice for all. The Ten Commandments are the foundation for all such laws. Read this book and teach it to your children. It will be an inestimable investment in your life and your progeny's future.
I heartily recommend Mark Rooker's The Ten Commandments. It has the right balance between carefully exegeting the biblical text and including relevant questions that arise from our contemporary scene. Each commandment is treated with fairness and with an eye to its contemporary application. In a day when the Church seems to be so short on teaching biblical ethics, here is just the solution pastors, lay leaders, and concerned laity need to reestablish our ethical and moral roots.