Find this product on Logos.com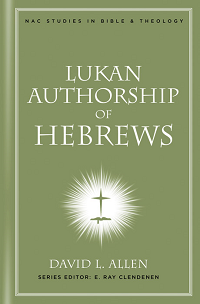 New American Commentary Studies in Bible & Theology: Lukan Authorship of Hebrews
Product Details
About the New American Studies in Bible and Theology

The books in this series often take a biblical difficulty as their point of entry, remembering B.F. Westcott's point that "unless all past experience is worthless, the difficulties of the Bible are the most fruitful guides to its divine depths."
This new series is to be a medium through which the work of evangelical scholars can effectively reach the church. It will include detailed exegetical-theological studies of key pericopes such as the Sermon on the Mount and also fresh examinations of topics in biblical theology and systematic theology. It is intended to supplement the New American Commentary, whose exegetical and theological discussions so many have found helpful. These resources are aimed primarily at church leaders and those who are preparing for such leadership. We trust that individual Christians will find them to be an encouragement to greater progress and joy in the faith. More important, our prayer is that they will help the church proclaim Christ more accurately and effectively and that they will bring praise and glory to our great God.
About Lukan Authorship of Hebrews
A new volume in the NEW AMERICAN COMMENTARY STUDIES IN BIBLE AND THEOLOGY series, Lukan Authorship of Hebrews explains why Luke is the likely author of the book of Hebrews. The ramifications of this possibility are then detailed in depth, including the way Hebrews informs the interpretation of the books of Luke and Acts. Also present throughout is commentary author David L. Allen's thorough analysis of the writing style similarities between Hebrews, Luke, and Acts.
About the Author
David Allen is dean of the School of Theology, professor of Preaching, and director of the Center of Biblical Preaching at Southwestern Baptist Theological Seminary in Fort Worth, Texas.
Endorsements
The authorship of Hebrews has been debated and discussed throughout church history. David Allen presents a fresh case in support of Lukan authorship, marshaling linguistic, theological, and historical evidence in support of his thesis. Scholars will need to reckon seriously with this carefully argued and well-defended proposal.
David Allen has written the most fascinating volume I have ever read on a question of authorship. The reader will learn church history, theology, and hermeneutics, while being treated to a riveting, scintillating, and ultimately compelling treatise on the Lukan authorship of Hebrews. No serious Bible student dare bypass this volume.
This is the definitive word on a Lukan proposal for the authorship of Hebrews. I find David Allen's argument both compelling and convincing. The work is the result of several decades of research and study, which will be self-evident to those who dive into this book. Combining both superb scholarship and a winsome style of writing, readers will be drawn into Dr. Allen's thesis. I suspect many will be persuaded!