Find this product on Logos.com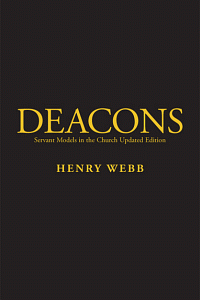 Deacons: Servant Models in the Church
Updated Edition
Product Details
After nineteen years in print and over 200,000 copies sold, Broadman & Holman published an updated edition of Deacons: Servant Models in the Church. Henry Webb deals with every aspect of the roles and offices of deacons in the church, including the deacon's marriage, wife, children, family life, conduct, priorities, and other pertinent aspects of deacons as role models of servant leadership in the church.
About the Author
Henry Webb is the director of the Pastor-Staff Leadership Department at LifeWay Christian Resources of the Southern Baptist Convention. He was editor of Deacon magazine from 1977 to 1980 and deacon ministry consultant in the church administration department from 1980 to 1984. He currently resides in Nashville, Tennessee.
Endorsements
Here is a Bible-based guidebook for deacons and leaders in the church. My good friend, Henry Webb, has thoroughly researched his subject, has corrected past misnomers of some authors, and has rendered a comprehensive and practical approach to the vital ministry of Christian leadership in the church. It is my prayer that God will use this book for His glory and the enrichment of local churches everywhere.
Henry Webb has made a significant contribution to the ministry of local churches with his recently released book Deacons: Servant Models in the Church. It is extremely well written, easy to read, and faithful to the Scriptures. Pastors and churches would be wise to place this book into the hands of all their deacons—especially those who are newly ordained. It is an invaluable tool!
Without doubt, the role of deacons in our churches is a matter of utmost importance. Good, functioning deacons who protect the fellowship of the church and serve the church with humility is one of the greatest needs today. Henry Webb has skillfully written about the place of deacons and their role as servant models in the church. These pages will help to solidify the biblical ministry of the deacons and encourage deacons to serve in the spirit of Christ and the church to appropriately respond to that ministry.
Henry Webb has captured the spirit of the New Testament deacon with amazing clarity. The church is in desperate need to great leaders. God's Word clearly states that to be great we must become servants. The perfect model of the deacon is a selfless servant leader. Deacons: Servant Models in the Church is a model textbook for every pastor and every deacon.