Find this product on Logos.com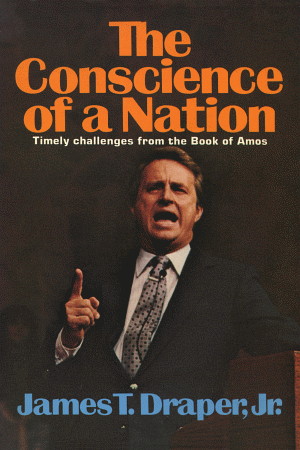 The Conscience of a Nation
Timely Challenges from the Book of Amos
This title works with the following Wordsearch products
Desktop
Product Details
The Conscience of a Nation will probe your conscience. Preaching from the Book of Amos, James T. Draper, Jr., places before us the alternatives for our frenetic society. This book will disturb you, upset you, lay bare your innermost being. These twenty penetrating chapters are based on messages Draper has delivered to his congregation, the First Baptist Church of Euless, Texas. It's no wonder his church takes the urgent commission of Christ seriously.
If you're reading for "the fun of it," this won't be easy reading, for here is pungent exposition of Amos's prophecy which is still relevant today as it was in the eighth century BC.
If a Christian happens to "at ease in Zion" (Amos 6:2) he won't be after conscientiously reading this book, along with The Book. All prophetic preaching should lead to action, and that is exactly the intent of The Conscience of a Nation.
Read The Conscious of a Nation with your Bible open to the scathing, yet redemptive, prophecy of Amos. And your heart open to God's timely truth. No longer will you be satisfied with the status quo, with merely existing "at ease in Zion."
About the Author
James Thomas Draper, Jr. was born in Hartford, Arkansas in 1935. Draper graduated from Millby High School in Houston in 1953. He thereafter received a bachelor of arts degree from Baylor University in Waco in 1957. He obtained a Masters degree in theology from Southwestern Baptist Theological Seminary in Fort Worth in 1961. Draper has received honorary degrees from: Howard Payne University, Dallas Baptist University, California Baptist University and Campbell University.
Between 1956 and 1965 Draper has pastored in Texas, Missouri, and Oklahoma. In 1974 he became associate pastor at First Baptist of Dallas and in 1975 he accepted the pastorate of the First Baptist of Euless, Texas. Draper left Euless after sixteen years to assume the presidency of LifeWay in Nashville, Tennessee. After almost fifteen years in the position Draper retired. Draper is also the author of more than twenty-five Christian books. He has traveled in thirty-three countries to lead evangelistic services and activities as well as conferences and meetings with missionaries and Christian leaders in those countries. Draper resides in Colleyville, Texas in northeastern Tarrant County.