Find this product on Logos.com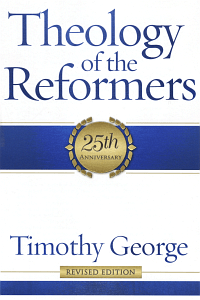 Theology of the Reformers, Revised Edition
Product Details
First released in 1988, this 25th Anniversary Edition of Timothy George's Theology of the Reformers includes a new chapter and bibliography on William Tyndale, the reformer who courageously stood at the headwaters of the English Reformation. Also included are expanded opening and concluding chapters and updated bibliographies on each reformer.
Theology of the Reformers articulates the theological self-understanding of five principal figures from the period of the Reformation: Martin Luther, Huldrych Zwingli, John Calvin, Menno Simons, and William Tyndale. George establishes the context for their work by describing the spiritual climate of their time. Then he profiles each reformer, providing a picture of their theology that does justice to the scope of their involvement in the reforming effort.
George details the valuable contributions these men made to issues historically considered pillars of the Christian faith: Scripture, Jesus Christ, salvation, the church, and last things. The intent is not just to document the theology of these reformers, but also to help the church of today better understand and more faithfully live its calling as followers of the one true God.
Through and through, George's work provides a truly integrated and comprehensive picture of Christian theology at the time of the Reformation.
About the Author
Timothy George is Dean at Beeson Divinity School, Samford University in Birmingham, Alabama. He is also editor, together with his wife Denise, of the Library of Baptist Classics series. He previously was an associate professor of church history and historical theology at The Southern Baptist Theological Seminary, Louisville, Kentucky.
Endorsements
A masterpiece of penetrating theology analysis and lucid historical narrative. This classic study of sixteenth-century Protestant theology (with a new chapter devoted to William Tyndale) deserves to be rediscovered by a new generation of Reformation scholars and students.
A classic and compelling volume written by one of evangelicalism's most prized thinkers.
Like many other professors, I made Timothy George's Theology of the Reformers required reading when it first appeared—because it was clear, reliable, historically sound, and theologically rich. Now a good book has become even better in this new updated and expanded edition. For professors, students, and a much broader reading public, it is just the book to prepare thoughtfully for the 500th anniversary of the Protestant Reformation in 2017.
This revision reminded me again that Dr. George is an incredible historical theologian writing an incredible theological history to the glory of an omnipotent God!