Find this product on Logos.com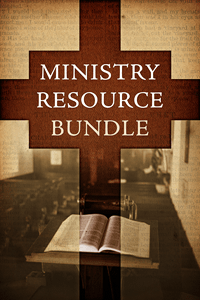 Ministry Resource Bundle
5 Volumes
Product Details
In the Ministry Resource Bundle, you'll find helpful tools for teaching, preaching, studying God's Word, serving in ministry, Christian friendship and more. This bundle includes:
Knowing Scripture - Noted theologian R.C. Sproul presents a clear, commonsense approach to studying God's Word. You'll get a clear understanding of the science of hermeneutics, practical rules for biblical interpretation, how to handle predictive prophecy with care and much more.
Give Them Christ - A practical guide that will help you put Christ in the center of everything you preach and teach. This resource is rich in theology and focuses on the 5 key dimensions of Jesus' work: His incarnation, crucifixion, resurrection, ascension and return.
The Glory of Preaching - Author Darrel Johnson is a seasoned preacher who teaches preaching to those preparing for ministry. You'll learn techniques for engaging the biblical text with the freedom to make use of your own personality, gifts and abilities to communicate a clear message.
Deacons: Servant Models in the Church - This updated edition of Henry Webb's classic work deals with every aspect of the roles and offices of deacons in the church, including the deacon's marriage, wife, children, family life, conduct, priorities and other aspects of Christian leadership.
Friends at the Margins - This excellent resource will show you how the practice of true friendship can be central to the Christian mission. You'll find this work is a breath of fresh air in a world that tends to dehumanize. The authors combine theology and practice to help professionals, leaders and everyday Christians live as ambassadors of reconciliation.
Products Included In This Bundle