Find this product on Logos.com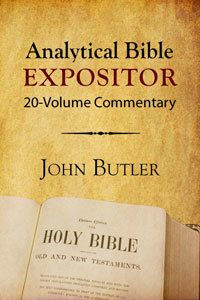 Analytical Bible Expositor: 20 Volume Bundle
Highlights
Verse-by-verse commentary assures you of solid, Bible-based teaching
Beautifully alliterated to make each core truth more memorable
20-volume set
Covers all 66 books of the Bible
Ideal for sermon and lesson preparation
Product Details
If you preach sermons, teach Bible lessons, or love deep Bible study, the Analytical Bible Expositor is a resource you will consult in Wordsearch often. Extremely well-researched and extensively organized, this commentary provides unlimited material for expository preaching and teaching. Covering the entire Bible, each chapter is arranged in Butler's own analytical, alliterated, outlined style. Butler is a master of alliteration, even alliterating the table of contents. His alliteration is so beautiful you'll be able to hear your own voice sharing it with others.
Not only does he provide poetry-like alliteration, he further breaks down each lesson, all the while analyzing, outlining, and finding deeper truths from the text. The annotations combine exposition with practical application. It's easy-to-read and understand, and is full of illustrations that you can use in your preaching or teaching.
Watch this helpful demo video below:
About the Author
John G. Butler has been a Baptist minister for over half a century with "pastorates in Williamsburg, Ohio; Detroit, Michigan; Chicago, Illinois; and Clinton, Iowa. He is a veteran of the United States Navy, attended Tennessee Temple University and graduated from Cedarville University. Butler is also the author of the Bible Biography Series —a twenty-seven volume series about major Bible characters; the Studies of the Savior —a ten volume series about Jesus Christ; and, Daily Bible Reading—a unique four volume devotional series that emphasizes expository Bible study.
Endorsements
The Analytical Bible Expositor by John G. Butler provides a golden vein of biblical truth for the teacher and preacher of the Word of God. We commend this godly veteran of the pulpit for sharing his spiritual gift in print. This gospel venture demonstrates his affirmation, alliteration, and application of the biblical text. I gladly recommend his writings.
I would be thrilled to express my gratitude for Bro. Butler's work. He is Scriptural, Simple, and Succinct in all his books. His expositions have excellence of truth and express thoughtful consideration of the text. Most of all they are as practical as they are powerful. If you are unable to use Bro. Butler's materials, you need to go back to your prayer closet and repent of your hardheartedness.
Products Included In This Bundle