Find this product on Logos.com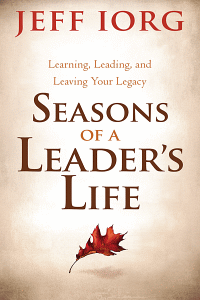 Seasons of a Leader's Life
Learning, Leading, and Leaving Your Legacy
Product Details
Learning, leading, and leaving a legacy are the seasons of a leader's life. The beginning phase involves the passion of youth and excitement for the future and is a time of earning degrees, finding mentors, and more. And while leaders are always learners, soon enough the true season of leadership arrives where the leader leads, employing key practices to advance the mission of their work. Finally, a leader must consider her legacy — the wisdom gained, the people influenced, and the model of leadership that's left behind to inspire a subsequent generation ahead.
In Seasons of a Leader's Life, seminary president Jeff Iorg identifies Peter from The Bible as someone who lives through all three phases in the New Testament. In the Gospels he was a learner. In Acts he was a leader. In 1 and 2 Peter he wrote his legacy. Looking through that lens, Iorg blends scripture with leadership principles while prompting readers to see a bigger picture: Which season are you in right now? What should you be learning? How can you improve what you are doing? What will you leave for future generations? These questions surely lead to better leadership, and this resource, from an experienced leader, will inspired individuals, mentoring groups, staff improvement, organizational development, and more.
About the Author
Jeff Iorg is president of Golden Gate Baptist Theological Seminary. He holds degrees from Hardin-Simmons University, Midwestern Baptist Theological Seminary, and Southwestern Baptist Theological Seminary. Iorg and his wife Ann have three children and live in Mill Valley, California.
Endorsements
As an aspiring new leader, I am always looking for tools to help me steward my leadership development. This book has important insights God has used to shape both my character and leadership skills. Dr. Iorg provides insight to experienced leaders, while also remaining accessible to beginning leaders like me. It also helps me to think about leaving my legacy, starting now, and working toward that lifelong goal.
The season of leading will keep you up at night and turn your hair gray! But it will also fill your heart and invigorate your soul. Active leadership is both exhilarating and exhausting. Nevertheless, it's our God-given task. We're in the game, not on the bench. We are in the race, not coaching or cheering. There's nothing better than leading, and having people follow! So rise up, dream big, and implement the vision God gives you. In these pages, Dr. Iorg will inspired and encourage you as a leader. As you lead, you will feel God' pleasure and marvel at His impact through you. So read these pages, run His race, and lead for the joy of Jesus!
As a young pastor, someone told me, "Don't fizzle at the finish." Through the years, I've observed some leader who finished well, some poorly, and some who failed or quit. Dr. Iorg writes about leaving a legacy—the ultimate goal of every leader! Follow his counsel and you will be able to say with Paul that you "finished the race" God has given you to complete. Leaders lead to the end, leaving a legacy for coming generations.