Find this product on Logos.com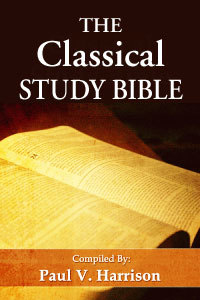 The Classical Study Bible
This title works with the following Wordsearch products
Desktop
Highlights
Please note: This product does not include the Bible text. To get a free copy of the King James Version or a handful of other Bible translations, please visit our free books page.
Product Details
The Classical Study Bible is a handy tool that will add insight to nearly any Bible passage you happen to be studying. Editor Paul Harrison had a great idea—search the wisdom of great writers of theology and literature and apply relevant quotes to nearly every verse of the Bible. This book is a fast way to add practical insight to any passage you're studying to share with others. He has collected more than 5,000 sermon quotations,and they are indexed by author of the quotation, Scripture reference, and about half of them by topic.
The Classical Study Bible assembles the wisdom of over 200 noted writers, theologians and historians, including: Francis Bacon, Alexander Bruce, Adam Clarke, Alfred Edersheim, Jonathan Edwards, Charles Hodge, John Locke, William Shakespeare, Charles Spurgeon, John Wycliffe and many others.
About the Editor
Dr. Paul Harrison is a former Nashville pastor and professor at Free Will Baptist Bible College.