Find this product on Logos.com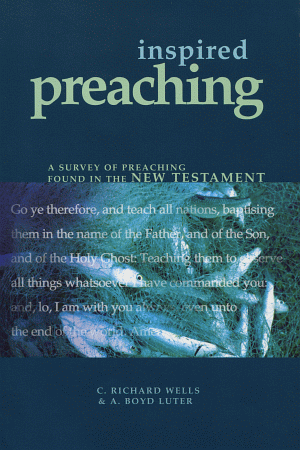 Inspired Preaching
A Survey of Preaching Found in the New Testament
Product Details
If we preach because the Bible says to preach (2 Timothy 4:2), then shouldn't we be keenly interested in what the Bible has to say about how to preach? Authors C. Richard Wells and A. Boyd Luter forge a fresh, compact, evangelical theology of preaching, in the light of the studies of biblical preaching and deliver a biblically informed prescription and plea for the renewal and multiplication of expository preaching to confront the challenges of the new millennium.
Inspired Preaching draws upon famous biblical preachers such as Jesus, Paul, Peter, and all major genres of biblical literature to form a theology of preaching for the preaching study of the 21st century.
About the Authors
C. Richard Wells is president and professor of Pastoral Theology at The Criswell College in Dallas, Texas. He is a graduate of Florida Southern College (B.A.), The Criswell College (M.Min), Stetson University (M.A.), Baylor University (Ph.D.), and the University of North Texas (Ph.D.). He is a contributor to the Holman Bible Handbook, The Believer's Study Bible, and The Challenges of Postmodernism as well as the author of numerous articles and book reviews.
A. Boyd Luter is Dean of Faculty and Professor of Biblical and Theological Studies at The Criswell College in Dallas,Texas. He is a graduate of Mississippi State University (B.A.) and Dallas Theological Seminary (Th.M., Ph.D.). His books include Looking Back, Moving On, Truthful Living, Disciplined Living, and Women as Christ's Disciples.
Endorsements
From the hands of two renowned and respected preacher-scholars, Inspired Preaching will enable pastors to think more biblically--and creatively--about their task as expositors of the Word of God. I Commend the book highly for its up-to-date-perspectives and usefulness!