Find this product on Logos.com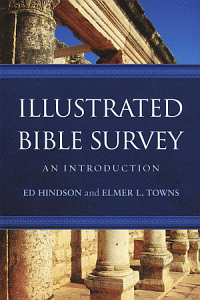 Illustrated Bible Survey
An Introduction
Highlights
More than 250 full-color photographs, maps, charts, and illustrations
Introductions to each book of the Bible, including discussions of background, date, author, outline, and message
Introductory chapters on how we got the Bible and how to read the Bible
Sidebars on theological themes, significant additional insights, and practical reflections of biblical truths
Study questions and recommended future reading
Product Details
The Illustrated Bible Survey is a lavishly illustrated, helpful Bible survey textbook that can vastly enhance your Christian education. Ideally suited for undergraduate students, laymen, and pastors, it provides a thorough understanding of the content, structure, and teaching contained in God's Word.
One thing you'll discover about the Illustrated Bible Survey is its relevancy. This is the most up-to-date Bible survey anywhere. Authors Ed Hindson and Elmer Towns bring over 90 years of combined Bible scholarship to this volume. New discoveries from archaeology are brought right up to current date. This Bible survey is also fun to use, with the maps, photos,charts, tables, and illustrations that bring Scripture to life.
The
Illustrated Bible Survey
helps bring context and clarity to each book of your Bible. It contains helpful outlines, introductions, key facts, and study questions for every book. You'll find additional articles such as:
History Between the Testaments, How We Got the Bible, How to Read the Bible, How to Interpret the Bible, plus How to Apply It and How It Shapes Our Worldview
.
Check out a sample by clicking on the Sample button.
About the Authors
Elmer Towns is cofounder of Liberty University in Lynchburg, Virginia, and dean of its School of Religion. Also a best-selling author, he won an ECPA Gold Medallion Book of the Year Award for The Names of the Holy Spirit.
Edward E. Hindson (D. Litt. et Phil., South Africa; FIBA. Cambridge) is distinguished professor of Religion and Biblical Studies at Liberty University in Virginia.
Endorsements
Illustrated Bible Survey is a helpful tool for those who love to study and teach the Bible. I look forward to taking advantage of it myself as I seek to faithfully handle the inerrant and infallible Word of God.
Anyone looking for a survey of Scripture will be impressed with the breadth and depth of this overview of both Testaments. It balances easy-to-read introductory topics with a lively survey of the content of each book that includes beautiful pictures, charts, models, lists, theological reflections, and practical application.
Illustrated Bible Survey constitutes one of the most easily read and beautifully illustrated volumes that I have seen in recent years. For a pastor who wants to be sure that his people have a basic understanding of what the Bible is and how its message affects their lives, Hindson and Towns have done a monumental service for the churches and for the kingdom of God.