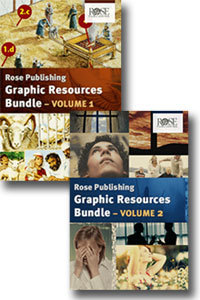 Rose Publishing Graphic Resources Bundle
Volume 1 & Volume 2
This title works with the following Wordsearch products
Desktop
Highlights
This bundle includes all of the Rose Publishing Graphic Resources currently available on Wordsearch
55 resources
Books, charts, timelines, photos, pamphlets, curriculum, history
Designed for personal, church, small group, and school use
Product Details
If you've ever tried to teach what the Jewish Tabernacle or Temple was like, you know how helpful graphic resources can be. Materials that illustrate lessons like these can help bring clarity to the complex. In this Rose Publishing Graphic Resources Bundle, you'll find fascinating photographs, maps, illustrations, and charts that organize Bible information in a way that is easy to understand and share with others.
This bundle includes 54 resources filled with thoughtful and organized material that can help you teach. The artwork included in resources like The Temple is expertly created and beautiful to look at, and will inspire you to teach the best lesson possible. The Temple even has cut-away drawings by the renowned archaeological architect and Temple Mount expert Leen Ritmeyer.
One of the best features of this bundle is how it works in Wordsearch. This extensive collection of Bible maps is unlike any you've ever seen before. You can click on a map and see modern borders and locations overlaid. Click again and the modern map toggles off. Wordsearch also makes it easy for you to export these graphics into a PowerPoint presentation or other teaching platforms like Google Slides. Create engaging, beautiful lessons or studies with Rose Publishing Graphic Resources Bundle.
Be sure to view the short demonstration videos for Volume 1 and Volume 2 below.
Check out a sample of this series by clicking on the yellow "Sample" button under the book cover on this page.
Endorsements
For years now, we have been offering products by Rose Publishing through the "Joni and Friends" radio program. They are perfect for our radio listeners: attractively designed, rich in content, handy to use, and easy to give as gifts to others.
Rose Publishing is my go-to resource when I need factual, biblical, reliable information about historical biblical Christianity. As a talk show host for the Salem network I need simple, accurate information. Rose Publishing pamphlets combine competent scholarship with easy to access information. I love and use ALL Rose Publishing resources.
There's no better wide spectrum resource than what Rose Publishing provides. So many areas, so many experts, all doctrinally sound and great communicators. Thanks for being there!
Products Included In This Bundle