Find this product on Logos.com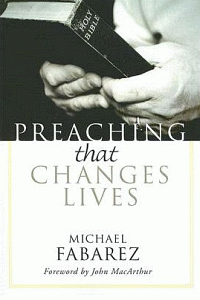 Preaching That Changes Lives
Product Details
Beyond the what and how of preaching is the all-important why of preaching.
Mike Fabarez contends persuasively that unless a sermon makes a difference in the lives of its hearers, the preacher and the congregation have missed the point. No matter how much information is communicated, unless application is central throughout the message, the sermon has failed to be biblical.
In fifteen brief chapters, the author demonstrates how the goal of changing lives can permeate the planning, preparation, presentation, and pastoral follow-through of every sermon. And in the process, the preacher's life will be changed, too.
Here is a book that is accessible, brief, highly practical, and ultimately life-changing. It includes:
A prayer guide for preaching
A sample "Message Prep" prayer team schedule
A Preaching Evaluation Form
Dr. Mike Fabarez is the senior pastor of Compass Bible Church in Orange County, California. Pastor Mike was educated at the University of Arizona, The Moody Bible Institute of Chicago, Talbot School of Theology, and Westminster Theological Seminary in California. His preaching is heard across the country on the Focal Points Radio program. He and his wife Carlynn have three children, Matthew, John, and Stephanie.
Endorsements
The purpose of preaching is not simply to inform. The purpose of preaching is to change lives. In Preaching That Changes Lives, Mike Fabarez gives essential information in readable form about accomplishing that purpose. It is well worth the read.