Find this product on Logos.com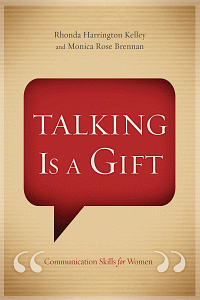 Talking Is a Gift
Communication Skills for Women
Product Details
Talking Is a Gift is the only comprehensive book about communication and public speaking written from a Christian perspective by women and for women — an unmatched source for Christian women enrolled in academic programs, leading in local churches, or serving in itinerant speaking/teaching ministries.
This distinctive text from experienced authors Rhonda Harrington Kelley and Monica Rose Brennan offers essential skills for women in personal life and varied ministry contexts. And as the title suggests, the content of the book supports the premise that talking is simply a talent when used for personal pleasure, but it is a spiritual gift when used to minister to others.
Kelley and Brennan divide the book into three parts: interpersonal communication, verbal communication, and nonverbal communication. Specific chapters cover issues including audience and outline, research and supportive material, anxiety and fear, delivery and details, and more. Discussion questions for each chapter, informational charts, and a glossary of terms are also featured.
About the Authors
Monica Rose Brennan received her D.Min. from Liberty Baptist Theological Seminary and serves as Professor of Women's Ministries and Evangelism in the School of Religion at Liberty University. She is the director of the Women's Ministries Program at Liberty University.
Rhonda Harrington Kelley is President's wife and Adjunct Professor of Women's Ministry at New Orleans Baptist Theological Seminary in New Orleans, Louisiana. She is a frequent speaker for women as well as an author of books including Divine Disciple, Life Lessons for Women of the Bible, and Personal Holiness: A Biblical Study for Developing a Holy Lifestyle. She is co-editor of the three volume Women's Evangelical Library including Women's Evangelical Commentary: Old Testament, New Testament, and The Study Bible for Women. Her husband Chuck Kelley is President of New Orleans Baptist Theological Seminary.
Endorsements
Having worked with both Kelley and Brennan for many years now, I know their hearts and their expertise on this topic. Not only do they model effective speaking skills, they know how to teach others. I highly recommend this book for any woman who has to stand in front of small group or a huge arena to speak truth to others!
Two gifted communicators have written a guidebook that shares the 'how to' behind transforming one's passion into a clear, life-impacting voice. This book will help a woman confidently develop her voice so that her 'talking' will have an eternal impact. How wonderful to consider that a woman's gift of talking can profoundly enhance the kingdom of God on earth.
Kelley and Brennan set such positive examples of excellence for speakers. That's why I am so grateful they can coach, guide, and inspire you in your speaking gift in their new book. Talking Is a Gift will be my answer when other women in ministry ask me, 'How can I grow and improve in my speaking ministry?'"
Kelly and Brennan have provided a book sharing their extensive knowledge of communication skills. There has long been a need for such a book specifically addressed to women who speak for the Lord. They cover the ground in the technical, rhetorical, and spiritual aspects of public speaking. I highly recommend it for women. And, men, you will be greatly assisted by taking a peek!
Communication is absolutely essential for any woman in ministry! Whether communication is one-on-one or in small groups or to large groups, communication is the absolute foundation for any ministry. Both Rhonda Kelley and Monica Brennan are my friends, and this book starts with their ability to communicate in every way. So, this book is more than research; it is the lives of two women who communicate, and they both do it well in this book.
Drs. Kelley and Brennan have written a superb guide to public speaking and communication specifically for women. This incredible insights and practical advice will challenge the minds and bless the hearts of all their readers—woman and men alike. Don't miss Talking Is a Gift—and indeed so is this book.