Find this product on Logos.com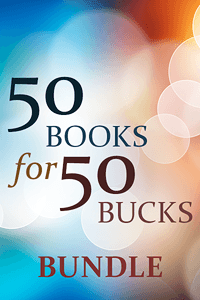 50 Books for 50 Bucks Bundle
Highlights
11 Literature
9 Sermon Helps
8 Theology
2 Commentaries
3 Bibles
4 Study Helps
3 History & Culture
3 Study Notes
2 Topics
3 Devotionals
1 Handbook
1 Handbook
1 Dictionary/Encyclopedia
Product Details
Note: Each of the 50 books in this bundle were not in any of the following bundles: 100 for $100 sale, $1.99 Super Saver Bundle (2013) or Super Saver Bundle (2012).
The 50 Books for 50 Bucks Bundle includes books that will help you with Bible study and help you minister to others. You'll find books that help answer the difficult questions, start meetings, write lessons, or sermons and much more.
Purchased individually at our regular prices, this bundle would total $851.08. This 50 Books for 50 Bucks Bundle will be available for a limited time.
Products Included In This Bundle