Find this product on Logos.com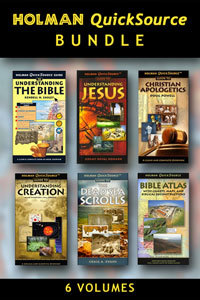 Holman QuickSource Bundle
6 Volume Set
Product Details
Each volume in the
Holman Quicksource Series
is designed to give you quick access and understanding of Bible material, organized and written in a user-friendly style. Best of all, each volume is packed with beautiful photographs, illustrations, maps, charts and highly graphic visual aids.
Open any one of these QuickSource volumes and you'll be captivated by the precise, concise format that adds color, detail and personality to your studies in God's Word. Everything that can be pictured or illustrated to deepen your understanding is graphically represented. These 6 volumes cover a wide range of Bible interest:
QuickSource Guide to Understanding the Bible is a thorough guide to Bible comprehension. Each book is clearly outlined and explained. Christian concepts are highlighted, such as Christ's foreshadowing in the Old Testament. Colorful maps, charts and illustrations are displayed throughout.
QuickSource Guide to Understanding Jesus takes a close and clear look at Christ in five parts: (1) His Old Testament background, (2) His life on Earth, (3) the Cross, (4) His teachings and (5) His followers. This volume was authored by the editor of the HCSB Study Bible, Dr. Jeremy Royal Howard.
QuickSource Guide to Christian Apologetics offers a well-organized and systematic approach to defending the Christian faith. It will give you confidence answering the tough questions and attacks that come today from every direction.
QuickSource Guide to Understanding Creation surveys every major issue relating to the theology and science of creation. This includes proofs that the universe was created and designed by God, a discussion of the compatibility of Genesis with major theories in modern science and an analysis of ancient non-biblical creation myths. Highly trained scientists and authors Mark Whorton and Hill Roberts are uniquely qualified to report these findings that are in line with Christian faith.
QuickSource Guide to the Dead Sea Scrolls gives you a strong overview and understanding of the Dead Sea Scrolls and their importance for Christianity. Topics covered include the discovery of the Dead Sea Scrolls, notes on the Dead Sea region, the contents and dates of the Scrolls, who wrote and gathered them, first and second generation scholars of the Scrolls and more.
QuickSource Bible Atlas packs an amazing amount of information about the physical context of biblical events into a single volume. And now, with this colorful compact volume, you'll always have these details close by for fast, easy, dependable reference. Included here are more than 300 maps, charts, photos, and biblical reconstructions illuminating the geographical context of key biblical topics such as: journeys, wars, kingdoms, exile, the life and ministry of Christ, the early church and more.
Products Included In This Bundle