Find this product on Logos.com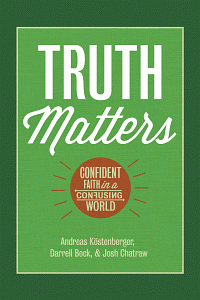 Truth Matters - Digital Version Only
Confident Faith in a Confusing World
Product Details
Going off to college and living on one's own can be an exciting time in a student's life. Everything is new and different when young people begin a new life of their own.
But if you are the parent or grandparent, your head can be full of anxious thoughts about your loved one. Will they be okay on their own? Will they be able to withstand the doubts and challenges they don't even know are coming their way? The world is a godless place, and if the mind isn't prepared, it's easy to fall into doubt at the first questioning of faith.
Did you know 4 out of 10 young people (ages 18-22) leave church and never return? Leading experts believe this is because church kids have a shallow faith and are unarmed and are ill-equipped to defend it. Skeptical professors, like New York Times bestselling author and southern college educator Dr. Bart Ehrman, teach that what the Bible teaches is a lie.
Skeptics will ask questions like: Was Christianity just made up? Is God incapable of keeping us from suffering? What gives the Bible authority of credibility? How can we know what it says if we don't have any originals? Is the Bible full of irresolvable contradictions? Have the biblical documents been forged to look more authentic? Was the resurrection a hoax?
How will students answer these kind of questions?
Jesus said, "You will know the truth, and the truth will set you free." Combining the effort of 3 top evangelical Bible scholars, this remarkable book will equip you and your student with the truth.It's written in an easy going style suited for high school readers. It answers the tough questions students are sure to be asked by college teachers and skeptics. It is loosely organized around the teachings of Ehrman, taking on one issue he raises at a time.
Students discover they don't have to be ignorant to be a believer in Jesus. They don't have to have "blind faith." They can answer intellectual questions and withstand the scrutiny of nonbelievers. Truth Matters will arm students with well-reasoned responses to the questions from professors, atheists, or even inner qualms everyone has at times.
Students discover the kind of historical information and thinking skills that will build a sturdy backbone of confidence. Truth Matters will help anyone stand strong as it offers intelligent, reasonable answers to the difficult questions that will inevitably challenge the faith of every believer.
Check out a sample of this book by clicking on the yellow "Sample" button under the book cover on this page.
Learn more in the video below.
About the Authors
Josh Chatraw (Ph.D., Southeastern Baptist Theological Seminary) is the pastor of preaching and students at First Baptist Church in Dublin, Georgia as well as adjunct professor at Brewton-Parker College, Zambia International Bible College, and Liberty University.
Darrell L. Bock (Ph.D., University of Aberdeen) is executive director of Cultural Engagement and senior research professor of New Testament Studies at Dallas Theological Seminary.
Andreas J. Kostenberger is senior professor of New Testament and Biblical Theology, Southeastern Baptist Theological Seminary, Wake Forest, NC and director of acquisitions, B&H Academic.
Endorsements
What I love about this book is that it is both intellectually responsible and imminently readable. I anticipate it becoming one of my most recommended resources, both for students struggling with challenges to their faith as well as seekers asking honest questions.
There has been a need for this book to be written for a long time. I'm thrilled to see it finally in print! Truth Matters offers cogent responses to some of the most common objections against Christianity. I will be recommending this book to students for a long time.
Today is the era of the aggressive but often misinformed atheist. Misunderstandings and half-truths abound about how we got the Bible, how well preserved it is, whether or not it is full of contradictions, whether the resurrection is credible, and more. Kostenberger, Bock and Chatraw set the record straight in a way that ordinary people can readily understand. Must reading for anyone with questions about these and related subjects or who knows anyone with questions about them!