Find this product on Logos.com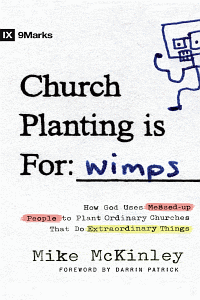 Church Planting is for Wimps
How God Uses Messed-up People to Plant Ordinary Churches That Do Extraordinary Things
This title works with the following Wordsearch products
Desktop
Product Details
This latest addition to the IXMarks series tells the story of the revitalization of Guilford Baptist Church in northern Virginia. Weaving together scripture and biblical principles with humor and personal anecdotes, author Michael McKinley asserts that a pastor's faithful exposition of God's Word, passion for sharing the gospel, and care in the training of other godly leaders are more important than the size of his church.
McKinley honestly shares his own fears and rookie mistakes, along with encouraging stories of how God moved at Guilford Baptist. We are reminded that God uses weak and fearful pastors in plants and revitalizations; church planting is indeed for "wimps." For pastors and seminarians considering a church plant and those already struggling in their own fledgling congregations, this book is a thoughtful and encouraging resource.
About the Author
Mike McKinley received his MDiv from Westminster Theological Seminary and is the author of several articles and reviews. He served on the pastoral staff of Capitol Hill Baptist Church in Washington DC, and in 2005 was called to revitalize Guilford Baptist Church in Sterling, Virginia.
Endorsements
I love Mike McKinley's writing. Church Planting is For Wimps is an engaging book that weaves together personal story, theological reflection, practical suggestion, and great humor. This is a book that will be of great benefit to pastors who are thinking of giving up on their churches.
Mike knows a lot about the ups and downs of church planting, and he writes about it with all the honesty and humor necessary for laboring in God's grace. There's no airbrushing of difficulties. And there are no oppressive 'be wonderful like me' gimmicks. If you want to think, learn, and laugh all at once, read this book. Whether you're a church planter, on a church-planting team, or an established pastor whose church wants to be more involved in church planting, you'll find this book a refreshing, grace-filled, hopeful, and useful excursion into the sometimes dizzying world of church planting.