Find this product on Logos.com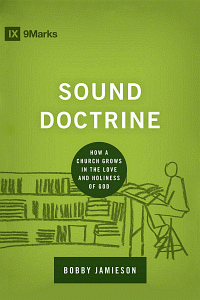 Sound Doctrine
How a Church Grows in the Love and Holiness of God
This title works with the following Wordsearch products
Desktop
Product Details
How do you feel about doctrine?
Whatever answer comes to mind, this book will not only convince you that sound doctrine is vital for living a godly life, it will also explain the essential role of theology in the life of a healthy church.
After all, thinking rightly about God affects everything, from guiding us in practical issues to growing a church's unity and witness.
This short, readable book shows how good theology leads to transformation, life, and joy.
About the Author
Bobby Jamieson is the assistant editor for 9Marks and managing editor of the 9Marks Journal. Jamieson, a member of Third Avenue Baptist Church, is currently an MDiv student at Southern Seminary, and lives with his wife and two daughters in Louisville, Kentucky. He is also the author of the 9Marks Healthy Church Study Guides.
Endorsements
Scripture is for sound doctrine, sound doctrine is for real life, and real life is for real church growth. So says Jamieson, and he hits the nail on the head brilliantly every time.
'Pay heed to your doctrine.' That imperative for faithful Christianity sounds to many Christians altogether abstract and remote from the life of the church. Bobby Jamieson believes otherwise, and Sound Doctrine is a masterful argument for doctrine that is not only deeply rooted in the church, but also produces a church that demonstrates both the grace and glory of God.