Find this product on Logos.com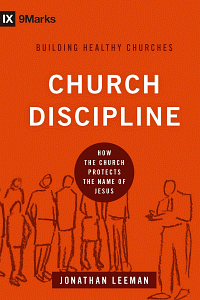 Church Discipline
How the Church Protects the Name of Jesus
Product Details
Church discipline is essential to building a healthy church. So how exactly do we practice church discipline?
Jonathan Leeman helps us face the endless variety of circumstances and sins for which no scriptural case study exists, sins that don't show up on any list and need a biblical framework to be corrected appropriately in love.
Here is a contemporary and concise how-to guide that provides a theological framework for understanding and implementing disciplinary measures in the local church, along with several examples of real-life situations and the corresponding responses.
About the Author
Jonathan Leeman (MDiv, Southern Baptist Theological Seminary) is an elder at Capitol Hill Baptist in Washington, DC. He serves as director of communications for 9Marks and is the editor of its eJournal. Leeman is the author of The Church and the Surprising Offense of God's Love and has been published in several major newspapers and Christian periodicals. He is currently a PhD candidate in theology at the University of Wales.
Endorsements
Leeman airs the dirty laundry of our lives and talks about how to clean it up. He ventures into the tough area of pastoral application, which is sure to rouse good discussions, but again and again I found myself convinced. You will not fail to be helped by this book. Brief and biblical, wise and practical—this is the book on church discipline we've been looking for.
Far too few biblically grounded, pastorally sensitive books on church discipline remain in print today. I know of none that is as exegetically accurate, practically relevant, and filled with real-life case studies of how churches should deal with a wide variety of common situations. On top of all this, Leeman is helpfully succinct and remarkably clear. Highly recommended!