Find this product on Logos.com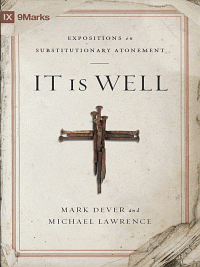 It Is Well
Expositions on Substitutionary Atonement
This title works with the following Wordsearch products
Desktop
Product Details
The idea of Christ's substitutionary atonement for sinners is central in both the Old and New Testaments—from the Passover to the prophets to the words of Jesus and the apostles. In It Is Well, pastors Mark Dever and Michael Lawrence demonstrate how the atonement is clearly taught throughout Scripture.
Starting with Exodus 12 and moving through other key Old Testament passages into the Gospels and the epistles of Paul and Peter, the authors offer careful expositions on fourteen crucial texts. As they speak to important issues such as what happens when there is no substitute for sin, why God forsook Christ, Jesus' perspective on his substitutionary work, and the necessity and benefits of the atonement, they show how much the doctrine applies to the Christian life.
It Is Well not only encourages pastors to preach this essential doctrine for the strengthening of the church, but it helps individual believers understand and exult in the richness of God's love in Christ.
About the Authors
Mark Dever (PhD, Cambridge University) is senior pastor of Capitol Hill Baptist Church in Washington, DC, and pastor of 9Marks Ministries. Dever has authored over a dozen books and speaks at conferences nationwide.
Michael Lawrence is Senior Pastor of Hinson Baptist Church in Washington DC. He earned a PhD in church history from Cambridge University and an MDiv from Gordon-Conwell Theological Seminary. Lawrence is the author of Biblical Theology in the Life of the Church.
Endorsements
Theological and devotional, expositional and inspirational: these are four words that well capture this excellent work on the doctrine of penal substitution. Thank you, Mark and Michael, for this gift to the church of the Lord Jesus. Read it and be instructed. Read it and be blessed.
Dever and Lawrence remind us that at the heart of Christianity is Christ, and the heart of Christ's ministry is the cross, and the heart of the cross is penal substitution. Nor is penal substitution limited to part of the canon. Both in the OT and the NT forgiveness of sins comes only through substitution. The OT anticipates the substitutionary sacrifice of Christ, the Gospels relate the story of his sacrifice, and the Epistles explicate what Christ has accomplished for his people. What a joy to have the truth of Christ's work for us set forth in sermons, for we see clearly that Christ's atoning work is no abstraction. Dever and Lawrence in these well-crafted sermons both instruct us in God's Word and apply it powerfully to the lives of both believers and unbelievers.