Find this product on Logos.com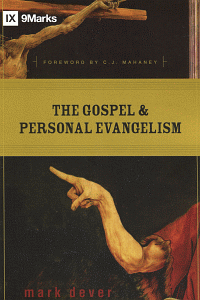 The Gospel and Personal Evangelism
Product Details
Evangelism is not only misunderstood, it is often unpracticed. Many Christians want to share the gospel with others, but because those Christians don't grasp the fundamentals of witnessing, they feel intimidated and incapable of sharing the truth of the gospel.
Yet those believers fail to recognize that God has already established who and how we are to evangelize. In The Gospel and Personal Evangelism, Dr. Mark Dever seeks to answer the four basic questions about evangelism that many Christians ask: Who should we evangelize? How should we evangelize? What is evangelism? Why should we evangelize? In his answers Dever draws on New Testament truths and helps believers apply those truths in practical ways. As readers understand the fundamentals of evangelism, they will begin to develop a culture of evangelism in their lives and their local churches.
About the Authors
Mark Dever (PhD, Cambridge University) is senior pastor of Capitol Hill Baptist Church in Washington, DC, and pastor of 9Marks Ministries. Dever has authored over a dozen books and speaks at conferences nationwide.
Endorsements
Mark Dever's personal devotion to Scripture has led him to think deeply, read widely, preach clearly, and write simply to the great blessing of the body of Christ. Evangelism is the church's mandate, and the one reason the redeemed are still on earth. Doing it effectively requires doing it biblically. Mark teaches us how to mobilize our churches to do just that.
For most of us, personal evangelism is the reverse of easy, and so it becomes a task we evade. Mark Dever writes to shake us up about this, clearing our heads as to just what evangelizing involves and motivating our hearts to go to it realistically and responsibly. This is a word in season that will surely do a great deal of good.