Find this product on Logos.com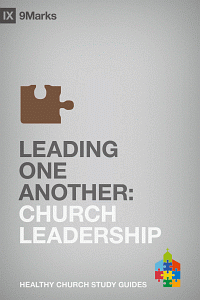 Leading One Another: Church Leadership
Healthy Church Study Guides
Product Details
Because it can be abused, leadership is a risky business—both for those in it and those under it. But God has good plans for leadership within the church. This study explores God's plans for authority by focusing on God's revelation of himself as shepherd, and how God calls leaders to image him. The rest of the study looks at the special responsibilities and roles within the church, fulfilled by elders, deacons, and church members themselves.
A series of ten 6–7 week studies covering the nine distinctives of a healthy church as originally laid out in Nine Marks of a Healthy Church by Mark Dever. This series explores the biblical foundations of key aspects of the church, helping Christians to live out those realities as members of a local body. Conveniently packaged and accessibly written, the format of this series is guided, inductive discussion of Scripture passages and is ideal for use in Sunday school, church-wide studies, or small group contexts.
About the Author
Bobby Jamieson is the assistant editor for 9Marks and managing editor of the 9Marks Journal. Jamieson, a member of Third Avenue Baptist Church, is currently an MDiv student at Southern Seminary, and lives with his wife and two daughters in Louisville, Kentucky. He is also the author of the 9Marks Healthy Church Study Guides.
Endorsements
9Marks, as a ministry, has taken basic biblical teaching about the church and put it into the hands of pastors. Bobby, by way of these study guides, has taken this teaching and delivered it to the person in the pew. I am unaware of any other tool that so thoroughly and practically helps Christians understand God's plan for the local church. I can't wait to use these studies in my own congregation.
Bobby Jamieson has done local church pastors an incredible service by writing these study guides. Clear, biblical, and practical, they introduce the biblical basis for a healthy church. But more importantly, they challenge and equip church members to be part of the process of improving their own church's health. The studies work for individual, small group, and larger group settings. I have used them for the last year at my own church and appreciate how easy they are to adapt to my own setting. I don't know of anything else like them. Highly recommended!