Find this product on Logos.com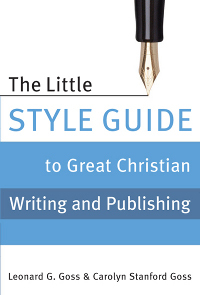 The Little Style Guide to Great Christian Writing and Publishing
Product Details
The Little Style Guide to Great Christian Writing and Publishing provides a fresh understanding and distinctively Christian examination of style and language. It covers all the basic rules of grammar, style, and editing and will be of immediate interest to Christian writers and editors. The Little Style Guide will be cross-referenced with the Chicago Manual of Style, Fifteenth Edition and will be a welcome companion to the CMS in handling concerns that are unique to Christian writing and editing. The burgeoning field of electronic publishing has greatly increased the number of Christian writers. In the U.S. alone, there are over 500 Christian writers conferences and guilds each year. The Little Style Guide will serve the needs of the largest publishing houses and their authors and editors along with the smallest churches who weekly publish a newsletter and communicate through a website.
For years to come, this book will serve the needs of publishing houses and their authors and editors along with churches that weekly produce publications to spread the gospel in their communities.
About the Authors
Leonard G. Goss has worked inside the publishing industry for more than thirty years. Len has been editorial director/senior acquisitions editor at B&H Publishing Group, editorial vice president at Crossway Books, and imprint editor at Zondervan Publishing House. He began his publishing career with John Wiley & Sons. He is coauthor of Writing Religiously and The Christian Writer's Book, and the coeditor of Inside Religious Publishing.
Carolyn Stanford Goss graduated with high distinction from Arizona State University and received the master's degree from Vanderbilt University. She has extensive experience in publishing, having worked in marketing and special sales for Random House, Richard D. Irwin, and McGraw-Hill. Carolyn currently teaches composition and literature at Williamson Christian College and Columbia State Community College. She is also the author of Skills for Success, a modular life and study skills curriculum used by the Consortium of Online Christian Colleges.