Find this product on Logos.com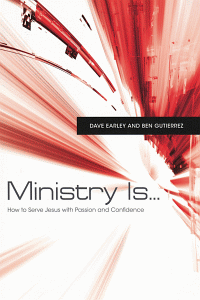 Ministry Is...
How to Serve Jesus with Passion and Confidence
Product Details
What is ministry? Ministry is casting crowns at the feet of the Worthy One. It is the overflow of your relationship with Jesus. It is washing feet, loving people, making disciples, and more.
In dozens of brief yet powerful chapters, Ministry Is . . . presents an actionable Bible-based guide to serving God in the local church. The insights here from authors Dave Earley and Ben Gutierrez are perfect for those considering church ministry as a vocation and applicable to anyone desiring to serve intentionally through the church.
With every entry, they stay laser focused on making the reader "a spiritual change agent, a difference maker, and impact player for Jesus Christ."
About the Author
Dave Earley is lead pastor of Grace City Church of Las Vegas, Nevada. He also serves as adjunct professor of Pastoral Leadership for Liberty Baptist Theological Seminary in Lynchburg, Virginia.
Ben Gutierrez is administrative dean for undergraduate programs at Liberty University in Lynchburg, Virginia. He holds a Ph.D. in Organizational Leadership & Divinity from Regent University.
Endorsements
This book is like a pastoral pep talk. It'll challenge the way you think and lead.
I can't think of two young men more qualified to write a best-selling book on the topic How to Serve Jesus with Passion and Confidence.
The authors are in 'Game On!' mode in every chapter. They know that a great church isn't about having great big talent, but leaders who have great big servant hearts.