Find this product on Logos.com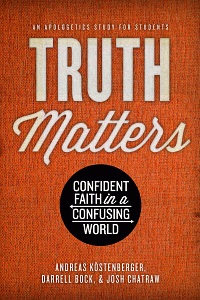 Truth Matters Student's Guide
Confident Faith in a Confusing World
Highlights
Truth Matters is a seven-session study for all youth based on the book of the same title.
Product Details
Easy to read yet loaded with meat and substance, this book is a level-headed reaction to those who equate Christian faith with "blind faith," even those whose subtle or stated goal is to separate students from their religious traditions. Readers will discover the kind of historical information and thinking skills that build a sturdy backbone of confidence in high schoolers and young adults, making them able to defend by "reasoned faith" what the Bible claims as truth.
This seven-session study will help equip students to defend their faith in a world that continues to challenge the existence of God and the validity of His Word.
Students will be equipped to respond to tough questions that challenge the validity of their beliefs Group sessions will provide opportunities for discussion of these issues and help students know they are not alone in defending their faith.
Session 1: A Reasonable Faith
Session 2: Is God There? Does God Care?
Session 3: Let's Make a Bible
Session 4: Contradictions, Contradictions
Session 5: I'll Need an Original
Session 6: And the Winner Is...
Session 7: A Likely Story
About the Authors
Josh Chatraw (Ph.D., Southeastern Baptist Theological Seminary) is the pastor of preaching and students at First Baptist Church in Dublin, Georgia as well as adjunct professor at Brewton-Parker College, Zambia International Bible College, and Liberty University.
Darrell L. Bock (Ph.D., University of Aberdeen) is executive director of Cultural Engagement and senior research professor of New Testament Studies at Dallas Theological Seminary.
Andreas J. Kostenberger is senior professor of New Testament and Biblical Theology, Southeastern Baptist Theological Seminary, Wake Forest, NC and director of acquisitions, B&H Academic.