Find this product on Logos.com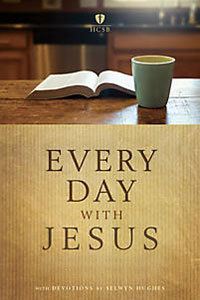 Every Day with Jesus
This title works with the following Wordsearch products
Desktop
Highlights
Does not include Bible text.
Works with any Bible translation in your Wordsearch library.
Product Details
Spend every day with Jesus as you read through the Bible in one year.
The Every Day with Jesus Daily Bible is arranged in 365 bite-sized portions for each day of the week, along with daily devotionals and prayers from beloved pastor Selwyn Hughes that will allow you to read through the entire Bible in one unforgettable year. It is a one-year daily reading Bible with a fresh, easy-to-stick-with plan that involves daily entries from the Old Testament, New Testament, Psalms, and Proverbs plus a special devotion from Selwyn Hughes. The devotion will be linked to one of the four readings for the day that will yield new insights into God's Word.
Pull up a chair and see how God's Word will become a joy for you and the delight of your heart.
About the Author
Selwyn Hughes founded the Crusade for World Revival, an international publishing and training ministry designed to apply God's Word to everyday life and relationships. Every Day with Jesus has been the banner of his daily devotional writings for forty years.