Find this product on Logos.com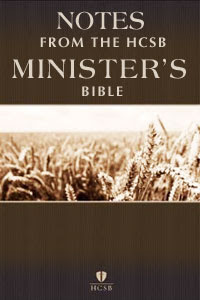 Notes from the HCSB Minister's Bible
This title works with the following Wordsearch products
Desktop
Highlights
Does not include Bible text.
Can be used with any translation.
Product Details
As a minister, you have a wealth of resources for Bible study and sermon preparation at your disposal. However, even with all of these resources, there is nothing that can take the place of the Bible from which you preach and use to minister to your congregation.
These ancillary notes from the HCSB Minister's Bible come from many of today's top preachers and church leadership voices. They consist of carefully chosen material designed for specific ministry situations including: preparation for weddings, funerals, special dedications, and more.