Find this product on Logos.com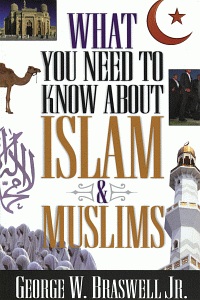 What You Need to Know about Islam and Muslims
This title works with the following Wordsearch products
Desktop
Product Details
With insight into the beliefs, social lives, family structures, and missionary strategies of the Islamic faith, this important new book offers a unique perspective to help you know and understand Islam's influential beliefs and practices.
Writing from a western Christian viewpoint coupled with a detailed, first-hand knowledge of Muslim life, Dr. Braswell digs beneath the religion's seemingly harmless surface to reveal a rich, proud, and powerful force in world affairs. With a glossary of special terms, maps of worldwide Islamic expansion, and a bibliography for further study, this book provides both a complete introduction and a comprehensive reference tool on Muslims—where they started, how they're positioned in today's social, political, and religious arenas, and where they're heading in the 21st century.
Did you know?
There are over one billion Muslims in the world.
Islam is the second largest religion in Europe.
Islam challenges Judaism as the second largest religion in the United States.
A United Nations demographic report forecasts Muslims will represent at least half of the global birthrate after the year 2055.
About the Author
George W. Braswell, Jr. is a professor of missions and world religions and serves as director of the D.Min. program at Southeastern Baptist Theological Seminary. A resident of Wake Forest, North Carolina, he is the author of several books including Understanding World Religions and Islam: Its Prophet, Peoples, Politics, and Power.