Find this product on Logos.com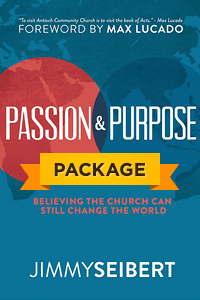 Passion & Purpose Package
Highlights
Includes Passion & Purpose, Breaking the Missional Code, The Challenge to Great Commission Obedience and City Signals
Product Details
Passion & Purpose is about the people of God - His church - passionately pursuing Him and being deeply committed to His purposes. Nothing more. Nothing less. But the results are changing the world!
The journey of Antioch Community Church from beginning until today is a story of simplicity and devotion to Jesus ... a story of tremendous power, courage, and spiritual success. It is a captivating and stirring story of literally tens of thousands of lost people coming to Christ.
So what is their secret? The truth is Antioch is not doing anything new; everything they strive to become is straight from God's Word. What is unique about Antioch is their passion for Jesus and their sold-out commitment to pursuing His purposes.
This is a story of people who believe that the Church is still God's vehicle to change the world.
3 Bonus Volumes in the Passion & Purpose Package:
Breaking the Missional Code is a clarion call for the churches in the United States to act among their local communities as missionaries would in a foreign land. Surprisingly, the message of Jesus Christ is still foreign to many who stand in the shadows of American steeples. As our approach to outreach changes, so can countless lives in our own backyards.
The Challenge to Great Commission Obedience - Rediscover the power and the promise of the Great Commission. Pointing always to Jesus as the light of the world, we are reminded of our blessed call to carry that light everywhere from the Americas to Zimbabwe and all points in between, to everyone in need of a Savior.
City Signals helps us recognize what's in our own hearts, to embrace diversity, and to see how God is working in urban areas. It challenges us to understand the importance of people, not programs, to empower decision makers, and to apply discipleship in urban settings. City Signals is more than a study, it's your green light to growth in urban ministry.
Endorsements
To visit Antioch Community Church is to visit the book of Acts. To hear their passion is to hear the heart of God. To listen to the stories of their global impact is to realize ... it can happen today!
Passion and Purpose. Two words that resonate deeply with me and my love for the church. But this commitment and belief in the church is shared with amazing people like Pastor Jimmy Seibert. His endurance and loyalty to the local church has opened the door for many to hear the gospel, receive salvation, and be empowered to impact their community, both locally and globally.
Living for Christ with passion and purpose is truly an adventure and there has never been a more exciting time to be a part of His story. Jimmy Seibert and Antioch Community Church have been right in the middle of this. You will be inspired by their story and how they have seen God at work in their community and around the world.
The Antioch movement has spawned dozens of church plants throughout the United States, primarily among university communities, replicating the evangelizing, disciplining, sending paradigm that represents the cutting edge for fulfilling the Great Commission.
Antioch is built on a foundation of godly character, skilled competence, and clear strategy to ignite movements of disciples making disciples of Jesus among the least reached people of our world. Antioch goes around the corner and around the globe to serve the least and the lost.
Products Included In This Bundle