Find this product on Logos.com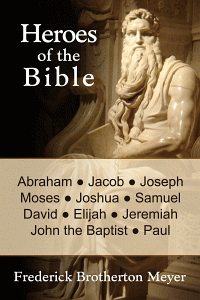 Heroes of the Bible Bundle
11 Volumes
This title works with the following Wordsearch products
Desktop
Product Details
This collection of Bible biographies gives you insight into the lives of these Old and New Testament characters. This collection includes:
David: Shepherd, Psalmist, King
John: The Baptist
Samuel: The Prophet
Abraham: Or the Obedience of Faith
Elijah and the Secret of His Power
Israel: A Prince with God
Joseph: Beloved, Hated, Exalted
Jeremiah: Priest and Prophet
Moses: The Servant of God
Joshua and the Land of Promise
Paul:A Servant of Jesus Christ
About the Author
One of the greatly loved preachers of his day, Frederick Brotherton Meyer was a pastor, author, Bible teacher and evangelist. He was born in London in 1847.
Dr. Meyer began pastoring in 1870, and in 1872 he went to Priory Street Baptist Chapel. There he met D. L. Moody, who made a lasting impression upon his life and taught him valuable spiritual lessons. These two godly men formed a lifelong friendship.
During his long and fruitful life, Meyer preached more than 16,000 sermons. Said one author: "The phrasing of Meyer's sermons was simple and direct; he polished his discourses as an artist polishes a perfect stone. There was always a glowing imagery in his words; his speech was pastoral, lovely as an English valley washed in sunlight." In his day, great wars raged. Those who went to hear him forgot the battles."
A distinct feature of Meyer's ministry was his outcry against the social evils of his day. Not only was he effective in the temperance movement, but he was also responsible for the closing of over 500 houses of prostitution. He also formed a prison aid society.
A devoted student of God's Word, he was the author of over 40 books, including Bible biographies (character studies), devotional commentaries, sermon volumes and expository works. He also authored several pamphlets and edited a number of magazines.
Endorsements
The ministry of Dr. F. B. Meyer (1847-1929) was faithful to the Word of God, forceful through the Spirit of God, and fruitful in the Kingdom of God. In Heroes of the Bible, Dr. Meyer provides a perceptive analysis of each character based upon the length, width, and depth of his spiritual experience and scriptural knowledge. To borrow a phrase from Isaac Watts a careful reading of this series will "[yield] a thousand sacred sweets." I wholeheartedly recommend it!
Products Included In This Bundle