Find this product on Logos.com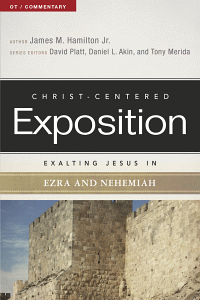 Christ-Centered Exposition - Exalting Jesus in Ezra-Nehemiah
Product Details
"This series affirms that the Bible is a Christ-centered book, containing a unified redemptive history of which Jesus is the hero. We purpose to exalt Jesus from every book of the Bible. In doing this, we are not commending wild allegory or fanciful typology. We must be constrained to the meaning intended by the divine Author Himself, the Holy Spirit of God. However, we also believe that the Bible has a Messianic focus, and the authors in this series will exalt Christ from all of their texts." - Series Editors
About the Series
Edited by David Platt, Daniel L. Akin, and Tony Merida, this new commentary series, projected to be 48 volumes, takes a Christ-centered approach to expositing each book of the Bible.
Rather than a verse-by-verse approach, the authors have crafted chapters that explain and apply key passages in their assigned Bible books. Readers will learn to see Christ in all aspects of Scripture, and they will be encouraged by the devotional nature of each exposition.
It's presented as sermons, divided into chapters that conclude with a "Reflect & Discuss" section, making it ideal for small group study, personal devotion and sermon preparation. It's not academic. Our aim is to present an easy reading, practical and friendly commentary.
About the Author
James M. Hamilton is Associate Professor of Biblical Theology at The Southern Baptist Theological Seminary, Louisville, KY. Before coming to Southern, Dr. Hamilton served as Assistant Professor of Biblical Studies at Southwestern Baptist Theological Seminary's Houston campus and was the preaching pastor at Baptist Church of the Redeemer. He has written God's Glory in Salvation through Judgment: A Biblical Theology and, God's Indwelling Presence: The Ministry of the Holy Spirit in the Old and New Testaments. He has contributed chapters to many other books, and has authored many scholarly articles. He currently serves as the preaching pastor at Kenwood Baptist Church.
About the Series Editors
David Platt is pastor of the Church at Brook Hills in Birmingham, Alabama. He holds a Ph.D. from New Orleans Baptist Theological Seminary and is the author of the best-selling book, Radical: Taking Back Your Faith from the American Dream.
Tony Merida is lead pastor of Imago Dei Church in Raleigh, North Carolina. He earned a Ph.D. in preaching from New Orleans Baptist Theological Seminary and serves as associate professor of Preaching at Southeastern Baptist Theological Seminary. His books include Faithful Preaching and Orphanology.
Daniel L. Akin is the president of Southeastern Baptist Theological Seminary in Wake Forest, North Carolina. He holds a Ph.D. in Humanities from the University of Texas at Arlington and has authored or edited many books and Bible commentaries including Ten Who Changed the World and the Christ-Centered Exposition Commentary volumes on Mark and 1, 2, 3 John.
Endorsements
Platt, Akin, and Merida have launched series that will give a rising generation of pastors a tremendous resource for seeing how all the Scriptures prepare for and proclaim the ministry of Christ. The pastoral focus, the preaching tools, and the redemptive insights make this a series of immediate use and great aid to pastors who want to equip their people to serve the Lord in the joyous power of the gospel—rather than in the vain pressures of servile dread of slavish fear.