Find this product on Logos.com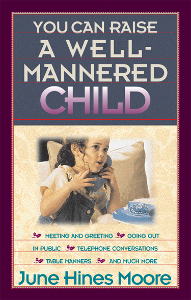 You Can Raise a Well-Mannered Child
Highlights
Methods proven in years of classes and workshops
Rules and reasons for the rules
Biblical foundations for manners
All the basics on introduction, table manners, correspondence and more
Four personality styles, and how to teach children with each of them
Product Details
This book is for every parent or grandparent who wants well-behaved children, but doesn't want to be the manners police. Written by a nationally recognized manners expert, it offers contemporary rules of correct behavior, plus detailed instructions on how to teach them effectively. Good manners improve children's self-confidence, enhance their competitive edge in the workplace, and make their parents proud. You Can Raise a Well-Mannered Child is based on hundreds of classes taught to children, teens, adults, and Fortune 500 executives who realize that in today's academic and business environments, good manners are a valuable competitive advantage.
Not just a list of manners, but how to teach them
Not just rules, but reasons for the rules
Biblical foundations for manners
Four personality styles, and how to teach children with each of them
Table manners, personal introductions, correspondence and more.
About the Author
June Hines Moore designs and conducts interpersonal communication seminars for universities, corporations, and professional and Christian organizations. She has also taught social graces from a Christian perspective to over 500 children and teens, and is the author of the "Moore on Manners" column in the Arkansas Democrat-Gazette.
Endorsements
Of all the books on manners, this is the first to equip parents with the practical guidance to teach their children the common courtesies which will help them become gracious and successful adults. Such results are a positive reflection on both their parents and our Lord.
June Moore has crafted a wonderfully encouraging book that goes far beyond proper introductions and formal table manners. It addresses the hearts of children with its illustrations of how temperaments affect manners. You Can Raise a Well-Mannered Child is a great resource you'll use year after year.