Find this product on Logos.com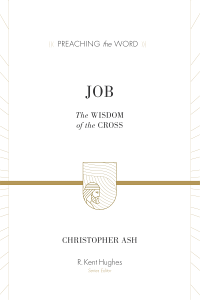 Preaching the Word - Job
The Wisdom of the Cross
Product Details
Life can be hard, and sometimes it seems like God doesn't even care. When faced with difficult trials, many people have resonated with the book of Job—the story of a man who lost nearly everything, seemingly abandoned by God.
In this thorough and accessible commentary, Christopher Ash helps us glean encouragement from God's Word by directing our attention to the final explanation and ultimate resolution of Job's story: the life, death, and resurrection of Jesus Christ. Intended to equip pastors to preach Job's important message, this commentary highlights God's grace and wisdom in the midst of redemptive suffering.
Taking a staggeringly honest look at our broken world and the trials that we often face, Ash helps us see God's sovereign purposes for adversity and the wonderful hope that Christians have in Christ.
About the Series
This Gold Medallion Award-winning series is noted for its unqualified commitment to Biblical authority, clear exposition of Scripture, readability, and practical application. What you get is a systematic explanation of each text in an easy-to-read and practical format. Each commentary is amplified with illustrations and applications that you can take right to the pulpit.
About the Author
Christopher Ash works for the Proclamation Trust in London as director of the Cornhill Training Course. In addition to serving on the council of Tyndale House in Cambridge, he is the author of several books, including Out of the Storm: Grappling with God in the Book of Job and Teaching Romans. He is married to Carolyn and they have three sons and one daughter.
About the General Editor
R. Kent Hughes is Senior Pastor Emeritus of College Church in Wheaton, Illinois. Hughes is the author of numerous books and is also the editor and contributor for Preaching the Word series, including Mark: Jesus, Servant and Savior, which received the E.C.P.A. Gold Medallion Book Award for best commentary in 1990. Hughes served as Senior Pastor of College Church for 27 years and retired at the end of 2006. He came to Wheaton from California where he pastored two churches. He holds a BA from Whittier College, an MDiv from Talbot School of Theology, a DMin from Trinity Evangelical Divinity School and a DD from Biola University. Currently he lives in Washington state with his wife, Barbara, and he is the father of 4 and grandfather of 21 children.
Endorsements
Christopher Ash writes beautifully—this book is a delight to read! But that isn't its greatest strength. Nor is the fact that these pages are filled with nuanced and fresh exegetical insights. Christopher has succeeded in producing the richest, most moving, most deeply cross-centered and God-glorifying treatment of Job I have ever read. This book marries brilliant explanation with powerful gospel-driven application. It is simply a 'must-have' resource for anyone intending to preach through Job.
This is one of the finest Biblical commentaries I have had the privilege to read, and certainly the best I know on the wonderful but perplexing book of Job. Christopher Ash takes us into the depths of this book, taking no shortcuts. He guides us through the details, helping us to see the brilliance of the poetry and the profundity of the questions raised. More than this he helps us to see how the sufferings of Jesus shed brilliant light into the darkest corners of Job's experience. In turn the book of Job deepens our understanding of Jesus' blameless suffering, and the suffering and darkness experienced by those who share in the sufferings of Christ. This is a powerfully edifying exposition.