Find this product on Logos.com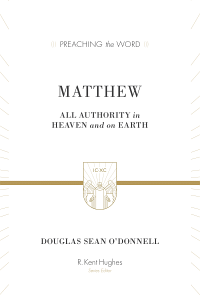 Preaching the Word - Matthew
All Authority in Heaven and on Earth
Product Details
Jesus is King. Standing as a central theme of the Gospel of Matthew, Jesus' kingly authority has profound implications for our lives today—changing the way we view the world, interact with others, and respond to blessings and hardships.
In this reader-friendly commentary, seasoned pastor Doug O'Donnell leads us through the first book of the New Testament, highlighting key themes and offering contemporary illustrations for preaching. Drawing on years of pastoral experience, O'Donnell helps us to see how Matthew's various emphases—including Jesus' messianic titles, fulfillment of Old Testament prophecy, teaching on the kingdom of heaven, and present and future role as judge—all relate to Christ's kingship over all of creation.
Full of biblical insights aimed at both pastors and laypeople, this volume ultimately highlights Matthew's call to all people to worship and obey Jesus, our humble King and gracious Savior.
About the Series
This Gold Medallion Award-winning series is noted for its unqualified commitment to Biblical authority, clear exposition of Scripture, readability, and practical application. What you get is a systematic explanation of each text in an easy-to-read and practical format. Each commentary is amplified with illustrations and applications that you can take right to the pulpit.
About the Author
Douglas Sean O'Donnell (MAs, Trinity Evangelical Divinity School and Wheaton College) is a senior lecturer in biblical studies and practical theology at Queensland Theological College in Brisbane, Australia. He is a member of the North American Patristics Society, the U.S. Board of the Irish Bible Institute, the Center for Pastor Theologians, and the Evangelical Theological Society. He is the author of a number of books, including The Beginning and End of Wisdom, The Song of Solomon and Matthew in the Preaching the Word commentary series, and Psalms in the Knowing the Bible series.
About the General Editor
R. Kent Hughes is Senior Pastor Emeritus of College Church in Wheaton, Illinois. Hughes is the author of numerous books and is also the editor and contributor for Preaching the Word series, including Mark: Jesus, Servant and Savior, which received the E.C.P.A. Gold Medallion Book Award for best commentary in 1990. Hughes served as Senior Pastor of College Church for 27 years and retired at the end of 2006. He came to Wheaton from California where he pastored two churches. He holds a BA from Whittier College, an MDiv from Talbot School of Theology, a DMin from Trinity Evangelical Divinity School and a DD from Biola University. Currently he lives in Washington state with his wife, Barbara, and he is the father of 4 and grandfather of 21 children.
Endorsements
Even for the most seasoned of preachers, the thought of expositing the Gospel of Matthew could be overwhelming. Thanks to Doug O'Donnell's newest commentary, chock-full of impressive insights and engaging wit, the first and perhaps greatest Gospel has suddenly become much less daunting. When Kent Hughes called on O'Donnell to write this volume, he knew exactly what he was doing.
This commentary grows out of wide reading and solid learning—the footnotes alone are a gold mine. O'Donnell writes with a zest for real life, wit, and (controlled) whimsy. The outcome: sermons that both revel in Christ and reveal Christ in fresh and striking ways. The author proves to be a hard-working and natural expositor of Scripture. This book goes to the top of my list of sterling homiletical commentaries on the first Gospel.