Find this product on Logos.com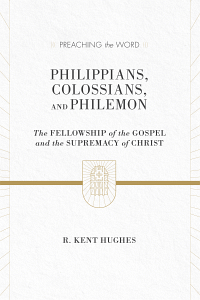 Preaching the Word - Philippians, Colossians, and Philemon
The Fellowship of the Gospel and The Supremacy of Christ
Product Details
Paul's epistles to the churches of Philippi and Colossae, and to Philemon stand together as some of the most profound illustrations of the unifying power of the gospel in all of Scripture. Highlighting the reconciliation that Christians enjoy in and through Jesus, Paul's lofty words and impassioned exhortations spur us to embrace one another as brothers and sisters in Christ.
These books also cover important topics such as:
Joy for the Christian life
The priority of the gospel
Finding true contentment in Christ
Safeguards against seduction
The source of fullness for the Christian family
In this study of Philippians, Colossians, and Philemon, renowned pastor R. Kent Hughes amplifies and explains the apostle Paul's message with memorable illustrations and penetrating insights into the biblical text. His careful exegesis and perceptive applications will encourage fresh understanding and promote lasting growth as readers are systematically led through God's Word.
About the Series
This Gold Medallion Award-winning series is noted for its unqualified commitment to Biblical authority, clear exposition of Scripture, readability, and practical application. What you get is a systematic explanation of each text in an easy-to-read and practical format. Each commentary is amplified with illustrations and applications that you can take right to the pulpit.
About the Author/Series Editor
R. Kent Hughes is Senior Pastor Emeritus of College Church in Wheaton, Illinois. Hughes is the author of numerous books and is also the editor and contributor for Preaching the Word series, including Mark: Jesus, Servant and Savior, which received the E.C.P.A. Gold Medallion Book Award for best commentary in 1990. Hughes served as Senior Pastor of College Church for 27 years and retired at the end of 2006. He came to Wheaton from California where he pastored two churches. He holds a BA from Whittier College, an MDiv from Talbot School of Theology, a DMin from Trinity Evangelical Divinity School and a DD from Biola University. Currently he lives in Washington state with his wife, Barbara, and he is the father of 4 and grandfather of 21 children.