Find this product on Logos.com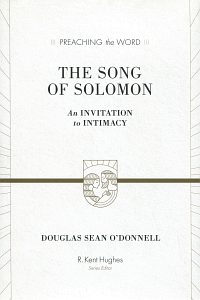 Preaching the Word - The Song of Solomon
An Invitation to Intimacy
Product Details
Our culture holds the megaphone when it comes to talking about sex today. Yet the church has maintained a reputation for keeping quiet, hesitant to teach people about this sacred aspect of life. The Song of Solomon, however, holds nothing back as it sings loudly about the holy practice of sexuality and pushes us into the conversation with godly theology.
While this biblical text has been subject to a broader range of interpretation probably than any other book in the Bible, Wisdom Literature expert Doug O'Donnell offers this comprehensible guide to help uncoil its complexities and solve its riddles. He explores the poetry, themes, and wisdom of this song from a Christocentric perspective, and gives us a profound, rich, and witty reflection that encourages right thinking and behavior.
Showing how this "song of songs" is meant to teach us about biblical sexuality and God's heart for his people, O'Donnell elucidates on the greatest subject of all time—love.
About the Series
This Gold Medallion Award-winning series is noted for its unqualified commitment to Biblical authority, clear exposition of Scripture, readability, and practical application. What you get is a systematic explanation of each text in an easy-to-read and practical format. Each commentary is amplified with illustrations and applications that you can take right to the pulpit.
About the Author
Douglas Sean O'Donnell (MAs, Trinity Evangelical Divinity School and Wheaton College) is a senior lecturer in biblical studies and practical theology at Queensland Theological College in Brisbane, Australia. He is a member of the North American Patristics Society, the U.S. Board of the Irish Bible Institute, the Center for Pastor Theologians, and the Evangelical Theological Society. He is the author of a number of books, including The Beginning and End of Wisdom, The Song of Solomon and Matthew in the Preaching the Word commentary series, and Psalms in the Knowing the Bible series.
About the General Editor
R. Kent Hughes is Senior Pastor Emeritus of College Church in Wheaton, Illinois. Hughes is the author of numerous books and is also the editor and contributor for Preaching the Word series, including Mark: Jesus, Servant and Savior, which received the E.C.P.A. Gold Medallion Book Award for best commentary in 1990. Hughes served as Senior Pastor of College Church for 27 years and retired at the end of 2006. He came to Wheaton from California where he pastored two churches. He holds a BA from Whittier College, an MDiv from Talbot School of Theology, a DMin from Trinity Evangelical Divinity School and a DD from Biola University. Currently he lives in Washington state with his wife, Barbara, and he is the father of 4 and grandfather of 21 children.
Endorsements
Doug O'Donnell is becoming one of the most edifying pastors of our time. I heartily recommend this wise and winsome set of comments on a biblical book beloved by many Christians through the ages but sorely neglected in the present. May God use this commentary to renew the courage of pastors in preaching the Song of Solomon once again.
The wisest man this side of the incarnate Christ, inspired by the Holy Spirit, on a topic that always grabs attention, in poetry, in the Bible—could it get any better than the Song of Songs? You won't want to miss Doug O'Donnell's exposition of the most sublime song.