Find this product on Logos.com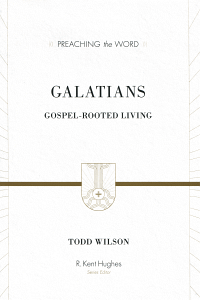 Preaching the Word - Galatians
Gospel-rooted Living
Product Details
What do you do when you've made a mess of things? Where do you go when you've blown it badly? How does the death and resurrection of Jesus Christ empower us to combat things like hypocrisy, pride, people-pleasing, and apostasy? Paul's letter to the Galatians tells us what we need to know in these situations as he teaches us how to rely upon costly grace.
In this fresh and engaging commentary, pastor Todd Wilson invites us to look beneath the surface of controversy in Galatia to the even more fundamental issue at stake: gospel-rooted living. Combining scholarly depth with practical wisdom, he offers us a soulful commentary based on years of ministry experience and biblical reflection. Read Galatians anew with this exegetically engaged, theologically informed, and pastorally minded resource!
About the Series
This Gold Medallion Award-winning series is noted for its unqualified commitment to Biblical authority, clear exposition of Scripture, readability, and practical application. What you get is a systematic explanation of each text in an easy-to-read and practical format. Each commentary is amplified with illustrations and applications that you can take right to the pulpit.
About the Author
Todd A. Wilson (PhD, University of Cambridge) is senior pastor of Calvary Memorial Church in Oak Park, Illinois. He has authored or edited several books. Todd and his wife, Katie, have seven children, three biological and four adopted from Ethiopia.
About the General Editor
R. Kent Hughes is Senior Pastor Emeritus of College Church in Wheaton, Illinois. Hughes is the author of numerous books and is also the editor and contributor for Preaching the Word series, including Mark: Jesus, Servant and Savior, which received the E.C.P.A. Gold Medallion Book Award for best commentary in 1990. Hughes served as Senior Pastor of College Church for 27 years and retired at the end of 2006. He came to Wheaton from California where he pastored two churches. He holds a BA from Whittier College, an MDiv from Talbot School of Theology, a DMin from Trinity Evangelical Divinity School and a DD from Biola University. Currently he lives in Washington state with his wife, Barbara, and he is the father of 4 and grandfather of 21 children.
Endorsements
I am deeply persuaded about the importance of exposition and the need for application and all the main things of sermon preparation. And there is a ton of info out there on how to interpret and outline a passage and settle on the big idea, but so much of it is not reliable. That's why I recommend this commentary on Galatians from my friend Todd Wilson. Biblical. Solid. Trustworthy.
Todd Wilson's exposition of Galatians admirably meets the goals of the Preaching the Word series. Wilson knows all the issues in this letter and treats them with remarkable fairness, always making clear just what the text is communicating to God's people today.