Find this product on Logos.com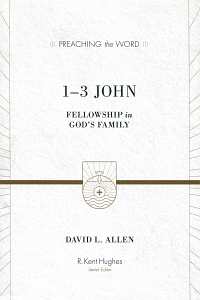 Preaching the Word - 1-3 John
David L. Allen
Product Details
What does it look like to "walk in the light, as he is in the light," to truly live as a follower of Christ? This all-important question finds its answer in three letters from the apostle John. Marked by their sermonic tone, devotional fervor, and emphasis on obedience to God's commands, 1, 2, and 3 John lovingly teach us how to follow Jesus in open devotion to God.
Professor of preaching David L. Allen guides us through 1–3 John with skill and wisdom, offering helpful insights into the Christian life as well as important themes such as:
The divinity of Christ
Spiritual rebirth
The work of Jesus on the cross
Our responsibility to forsake sin and keep God's commandments
The work of the Spirit
The danger of false teachers
Hermeneutically sound, Christ-centered, and remarkably practical, this study opens up John's letters anew and lays out the path for us to walk in light of God's truth and love.
About the Series
This Gold Medallion Award-winning series is noted for its unqualified commitment to Biblical authority, clear exposition of Scripture, readability, and practical application. What you get is a systematic explanation of each text in an easy-to-read and practical format. Each commentary is amplified with illustrations and applications that you can take right to the pulpit.
About the Author
David L. Allen (PhD, University of Texas at Arlington) is dean of the school of theology, professor of preaching, director of the Southwestern Center for Expository Preaching, and George W. Truett Chair of Ministry at the Southwestern Baptist Theological Seminary. He served as the senior pastor of two churches for 21 years and has been a teacher of preachers for more than 25 years.
About the General Editor
R. Kent Hughes is Senior Pastor Emeritus of College Church in Wheaton, Illinois. Hughes is the author of numerous books and is also the editor and contributor for Preaching the Word series, including Mark: Jesus, Servant and Savior, which received the E.C.P.A. Gold Medallion Book Award for best commentary in 1990. Hughes served as Senior Pastor of College Church for 27 years and retired at the end of 2006. He came to Wheaton from California where he pastored two churches. He holds a BA from Whittier College, an MDiv from Talbot School of Theology, a DMin from Trinity Evangelical Divinity School and a DD from Biola University. Currently he lives in Washington state with his wife, Barbara, and he is the father of 4 and grandfather of 21 children.
Endorsements
A rich resource covering one of the New Testament's most profound sections of Scripture, pastors and theologians of all persuasions will benefit from the thorough treatment Dr. Allen gives to these letters. This commentary, like John's letters, is brimming with gospel hope.
1-3 John is a welcomed addition to the Preaching the Word series. The 22 studies in this volume reveal careful research, theological insight, and exegetical integrity. Anyone preaching or teaching through the epistles of John will be greatly assisted by this volume. David Allen has rendered a valuable service to the church of the Lord Jesus that will bear fruit for years to come.