Find this product on Logos.com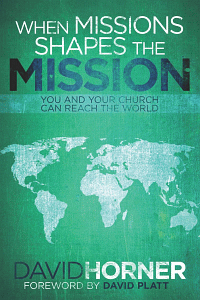 When Missions Shapes the Mission
You and Your Church Can Reach the World
Product Details
"Why are more churches not engaged in practical, substantial ways of taking the gospel to the nations?"
When Missions Shape the Mission unpacks a statistical study of traditionally evangelical churches that reveals their anemic level of commitment to the biblical mandate of making Christ known around the world. Veteran pastor David Horner makes the data easy to understand, challenging other pastors to radically assign their best leadership and resources to missions as he looks at where the church is today, how it got there, and where we must go from here:
"Let's dream a godly dream. What if you committed to step up and lead your church in the pursuit of becoming a mission-focused church? Then, what if you invited ten of your pastor friends to join you in the effort—and each of them did the same? What would happen to the available missions force beginning right here in the West?"
About the Author
David Horner is the founding and senior pastor of Providence Baptist Church in Raleigh, North Carolina. He is also the author of Firmly Rooted, Faithfully Growing and A Practical Guide for Life and Ministry and speaks overseas each year in various mission contexts. Horner and his wife have three children and one grandchild.
Endorsements
Feel the weight of this reality: At this moment millions of people in thousands of unreached people groups have a knowledge of God that is only sufficient to damn them to hell. For this reason we are obligated to preach the gospel to the nations. I think God for David Horner—for his life and for his leadership, for the church he leads and for their commitment to missions. I pray that the Lord will inspire, teach, educate, and motivate us all through this book.
What an important book. A sobering analysis of the weak Great Commission involvement of most evangelical churches and practical steps to change this...Best practices of churches are reviewed with an undergirding focus on the Spirit's empowerment by our people learning to walk by the Spirit.
When someone starts a church in his home and sees it grow to the largest church in the area, he clearly has a missionary emphasis! But David Horner carefully distinguishes this domestic concern from the passion to see Christ honored worldwide and to see this vision shaping a church's life. Passion for worldwide mission is currently weak in most U.S. churches, and this book is a wake-up call to congregations, particularly to their pastors. It is superbly researched, eminently practical, very challenges, and the fruit of a lifetime's passion—exemplified in his own church.
In reading this book several words immediately come to mind: hard-hitting, sobering, honest, challenging, and helful. When Missions Shapes the Mission is written by a Great Commission pastor who has built a Great Commission church. His goal is to assist you in doing the same. He has succeeded.
More and more pastors are discovering that church growth and spiritual vitality of church membership come from aligning a congregation with God's mission. David Horner is at the forefront of this group as he has led Providence Baptist Church in Raleigh, North Carolina, to become strategically involved with mission strategies around the world. This book will be a blessing and encouragement to those seeking to discover a practical balance for their local church to fulfill ministry and outreach in the community while focusing on the global dimension of the Great Commission.