Find this product on Logos.com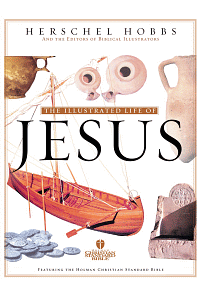 The Illustrated Life of Jesus
Highlights
More than 250 high-quality photos and graphics from the pages of Biblical Illustrator Magazine
10 recently created maps showing the geographical setting of Jesus' life
Product Details
See the places Jesus walked, preached and ministered. Let The Illustrated Life Of Jesus take you on a visual and spiritual journey you'll never forget.
The tranquil Sea of Galilee at sunrise. The sun-capped peaks of Mount Hermon. The majestic temple in Jerusalem. The Illustrated Life of Jesus brings you views of these awe-inspiring places and much more, along with Dr. Hobbs' keen insights into the life of Jesus.
In The Illustrated Life of Jesus, Hobbs' powerful narrative is paired with beautiful photography showing significant artifacts and places Jesus lived and taught. Hobbs weaves the Gospel writers' differing perspectives into one seamless narrative, following Christ from the announcement of his birth to his glorious ascension. Includes colorful graphics and sidebar information about Jesus' life and teachings and more than 250 colorful photos.
About the Author
Herschel Hobbs (1907-1995) was one of the leading Christian communicators of the 20th century. He served as pastor of the First Baptist Church in Oklahoma City for nearly twenty-five years, and wrote or edited 147 books and Bible commentaries.