Find this product on Logos.com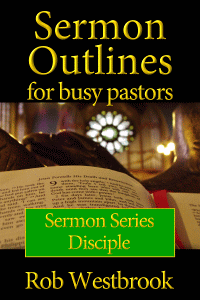 Sermon Outlines for Busy Pastors: Disciple Sermon Series
11 Complete Sermon Outlines for All Occasions
Product Details
One of the biggest downfalls of today's church is the failure to make disciples. Sermon Outlines for Busy Pastors: Disciple contains 11 sermon outlines to teach discipleship to your church and lay the groundwork for disciple-making. If discipleship is a priority for you, this sermon series will help you begin true disciple-making in your church.


The author, Rob Westbrook, is a preaching and teaching dynamo who understands the hard work that is required to write and preach effective sermons. He often credits the help he gets from others that have preached on similar texts and subjects. Westbrook appreciates the great value in getting a head start by consulting the wisdom of others. He makes this promise to his readers:
"I want to give you something to build on. Something that's been studied through, that gives you a head-start for your messages this Sunday. Something that will help you make the most of your limited time."
This volume contains much more than just outlines. Westbrook has put a great deal of "meat on the bones." Following his main points are sub-points and sub-sub points. These have all been carefully and prayerfully thought out. They can be quickly scanned, and the format makes it easy to expand, delete, and insert your own material.
About the Author
Rob Westbrook was called into the preaching ministry at 32, and attended New Orleans Baptist Theological Seminary, earning a Bachelors of Arts degree in Pastoral Ministry. He later earned forty-six hours toward a Masters of Divinity degree.
Rob became pastor of his first church, Hebron Baptist Church, in Amite County, Mississippi, in 1998, while attending seminary. By 2002 the time commitments to both seminary and the church became strained, and Rob chose to leave seminary behind for the church. Around 2005, God began preparing him for planting a new church. He left his first church pastorate in 2006 to become a church planter in his hometown of Amory, Mississippi. LifePointe Church had its first service in January 2008. Rob currently serves there, at LifePointe Church.