Find this product on Logos.com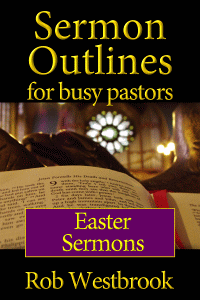 Sermon Outlines for Busy Pastors: Easter Sermons
20 Complete Sermon Outlines for Easter
Product Details
Easter is the most important time of celebration in Christianity. Our churches welcome more people during the Easter season than at any other time of the year. Sermon Outlines for Busy Pastors: Easter Sermons helps you be better prepared for presenting the Good News of Jesus Christ and His resurrection during the Easter season. You'll find 20 Easter-related sermons, including a 5 week sermon series: The Road to the Hill. Prepare yourself for Easter with Sermon Outlines for Busy Pastors: Easter Sermons.
About the Author
Rob Westbrook was called into the preaching ministry at 32, and attended New Orleans Baptist Theological Seminary, earning a Bachelors of Arts degree in Pastoral Ministry. He later earned forty-six hours toward a Masters of Divinity degree.
Rob became pastor of his first church, Hebron Baptist Church, in Amite County, Mississippi, in 1998, while attending seminary. By 2002 the time commitments to both seminary and the church became strained, and Rob chose to leave seminary behind for the church. Around 2005, God began preparing him for planting a new church. He left his first church pastorate in 2006 to become a church planter in his hometown of Amory, Mississippi. LifePointe Church had its first service in January 2008. Rob currently serves there, at LifePointe Church.
Rob has been married to his wife Teresa for almost 23 years. He and Teresa have one daughter, Lauren.