Find this product on Logos.com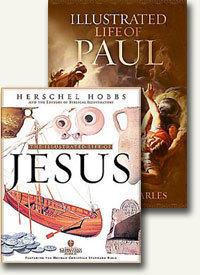 Illustrated Life of Jesus & Paul Bundle
2 Volumes
Product Details
This bundle includes The Illustrated Life of Jesus and Illustrated Life of Paul, two excellent tools from B&H Publishing.
Each of these works takes you on a fascinating journey that details every event in the lives of Jesus Christ and the Apostle Paul, respectively. Hundreds of photographs, illustrations, and reconstructions connect you with the life, times, culture, and lifestyles of the first century in which Jesus and Paul lived.
The Illustrated Life of Jesus is a visual and intellectual feast for anyone looking to understand more about the life, death, and ministry of our Savior. Author Herschel Hobbs weaves together the accounts found in all 4 gospels, tracing the steps Jesus took throughout His life and ministry. Along the way, this illustrated volume shows you the landscapes, vessels, vehicles, coins, fortifications, dwellings, tombs, and much more.
Also included are eye-opening essays on topics and historical figures like: the family of Herod, Caesar Augustus, Bethlehem, Nazareth, John the Baptist, the Passover, a first-century fishing boat, tax collectors, the Mount of Olives, Pontius Pilate, Mary Magdalene, and many others. Hobbs gives insight on many questions we all ask, such as: who were the Magi, and where did they come from? How long did Jesus, Mary, and Joseph live in Egypt? Where exactly did Jesus deliver his most famous sermons? What did the surroundings look like then and now?
The Illustrated Life of Paul will give you tremendous insight into the life, ministry, and writings of the most influential evangelist in church history. You'll learn about the birth, upbringing, and education of Saul of Tarsus. You'll also gain deeper understanding of his various careers. Author Charles L. Quarles goes into great detail with chapters on:
The Background of Saul of Tarsus
The Damascus Road
The First Missionary Journey
The Jerusalem Conference
The Second Missionary Journey
The Third Missionary Journey
From Jerusalem to Rome
Paul's Last Years
Each chapter is richly illustrated with beautiful photographs, maps, charts, and artifacts that bring the life and times of Paul to life. Wordsearch makes this volume even more useful. That's because the text is laced with Bible reference links that connect this work to other reference works in your library. It takes full advantage of the powerful cross-reference tools that are built into Wordsearch.
Click on the book cover images below to read more about each title and see a sample.
Products Included In This Bundle